Above: This photo shows a family posing outside Nook Farm and was probably taken in the early 1900s.
Census records show the Dunns had left the farm sometime between 1891 and 1901, so it's unlikely they're the family posing here.
My thanks to Mike for sending this clipping taken from the Saturday 18th May 1884 edition of the Buxton Advertiser. It reads;
FATAL TRAP ACCIDENT ON LONG HILL, BUXTON

At 12 o'clock on Thursday night a sad and fatal accident happened at the top of Long Hill, about three miles from Buxton, whereby Mr. Thomas Dunn, of the Nook Farm, Fernilee, lost his life. He had been at Tideswell fair, and returning had Mr. George Hibbert, of Long Hill Farm, with him in the trap.

Mr. Hibbert had just got off at his own gate, and the deceased was starting for home, a distance of only about one mile, when either the horse shied or he pulled the wrong rein, the result being that the trap and horse were upset on the top of Mr. Dunn.

He was got out soon as possible and conveyed into Mr. Hibbert's house. Dr. Flint was immediately sent for, but Mr. Dunn was dead when he arrived – indeed, death was instantaneous.

The event has created quite a gloom in the neighbourhood, where Mr. Dunn was highly respected. The deceased was 63 year of age, and leaves a widow and family to mourn his loss.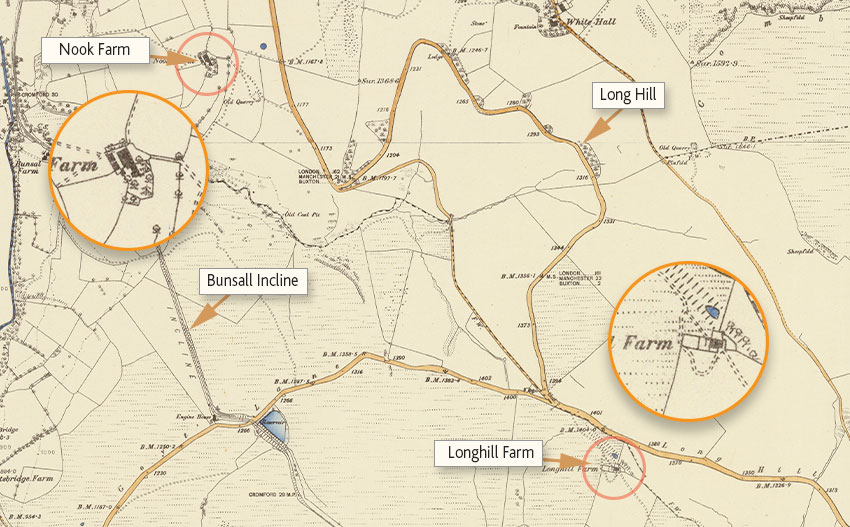 Above: This 1878 map shows the short distance between Mr Hibbert's Long Hill Farm and Mr Dunn's Nook Farm (click to enlarge). The Bunsall Incline is the long straight descent which is the main route into the valley today.
The Hibberts were a well-known name in the valley, but I don't have any information about Longhill Farm. It lay just outside the area purchased by Stockport Corporation to build the twin reservoirs, and survives to this day.
Nook Farm was demolished along with all the other houses on the Errwood Estate in the mid 1930s. The 1861 census lists Thomas Dunn as head of the household. But by 1901 they family had moved on. Click here for more on Nook Farm.


Page update 1: Mike has managed to find an obituary notice of George Hibbert of Longhill Farm (above), showing he died aged 77 on 8th February 1901.
Page update 2: Click here to read an 1884 newspaper report of the inquest into Farmer Dunn's fatal accident.