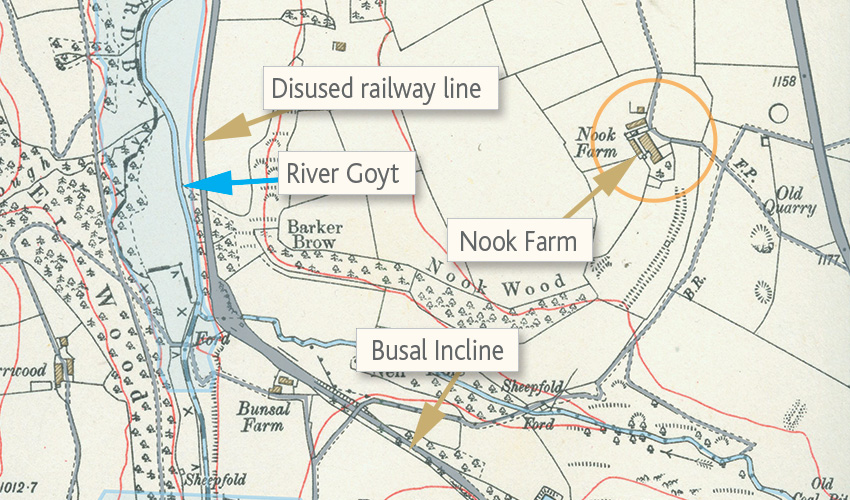 Above: This 1890 map (click to enlarge) shows that Nook Farmhouse was relatively large, compared to other nearby farms, such as Bunsal and Errwood.
Above: This charming photo – which probably dates to the early 1990s – shows a well-dressed group posing outside Nook Farmhouse (with one in the doorway). From the census returns, I would guess that they are the Joules family, although the chap in the Panama hat doesn't look like the typical Derbyshire farmer!
Nook Farm
Lying close the the Buxton to Whaley Bridge 'Long Hill' road, Nook Farm was one of the largest farms on the Errwood Estate, stretching to some 240 acres. I haven't yet tried to search for the ruins, so I'm not sure whether anything remains of the farm buildings.
The earliest census records from 1861 show that Thomas Dunn was the farmer, with his wife Naomi. And that they employed three servants who worked on the farm and in the house. Their son, George, took over the farm sometime between the 1881 and 1891 censuses.
By the time of the next census in 1901, the farmer was Joseph Joule. He and his wife Grace lived here with their four sons, three daughters, and Grace's mother.
I would guess that the top photo shows the Joules family; possibly Joseph and his wife Grace sitting, with Grace's mother, Sarah, standing, and one of their sons and daughters. Grace appears to be laughing at something.

Page update
Click here to read about the untimely death of Mr. Dunn of Nook Farm in a tragic horse and trap accident outside Longhill Farm in 1884.
Surname
First name
Born
Relationship
Occupation
Birthplace
1861 Census
Dunn
Thomas
c1818
Head
Farmer of 240 acres
Fernilee
Dunn
Naomi
c1826
Wife
Tissington
Redfern
Hannah
c1839
Visitor
Fenny Bentley
Palfreyman
Sarah A
c1839
Boarder
Moneyash
Redfern
Thomas
c1841
Servant
Agric. labourer
Fenny Bentley
Wardle
Joe
c1846
Servant
Shepherd boy
Derbys
Cocker
Hannah
c1812
Servant
Domestic servant
Longnor
Redfern
John
c1799
Visitor
Farmer & inkeeper
Fenny Bentley
1871 Census
Dunn
Thomas
c1818
Head
Farmer of 200 acres
Fernilee
Dunn
Naomi
c1826
Wife
Tissington
Dunn
George
c1862
Son
Fernilee
Dunn
Thomas
c1864
Son
Fernilee
Dunn
Sarah
c1866
Daughter
Fernilee
Dunn
Richard
c1869
Son
Fernilee
Hardy
William
c1831
Servant
Denton
Gould
Mary
c1857
Servant
Monyash
Blackwell
Sarah P
c1852
Servant
Monyash
1881 Census
Dunn
Thomas
c1818
Head
Farmer of 235 acres
Fernilee
Dunn
Naomi
c1826
Wife
Tissington
Dunn
George
c1862
Son
Fernilee
Dunn
Thomas
c1864
Son
Fernilee
Dunn
Sarah
c1866
Daughter
Fernilee
Dunn
Richard
c1869
Son
Fernilee
Hardy
William
c1831
Servant
Denton
1891 Census
Dunn
George
c1862
Head
Farmer
Fernilee
Dunn
Annie
c1862
Wife
Peak Forest
Dunn
Sarah
c1889
Daughter
Fenilee
Dunn
Annie
c1891
Daughter
Fernilee
Lomas
Harriet Alice
c1857
Nurse
Domestic nurse
Burbage
Bridden
Job
c1874
Servant
Domestic servant
Matlock
Wood
Emma
c1874
Servant
Domestic servant
Derbyshire
1901 Census
Joule
Joseph
c1857
Head
Farmer
Coombs
Joule
Grace Elizabeth
c1862
Wife
Coombs
Joule
Elias
c1884
Son
Coombs
Joule
Joseph P
c1885
Son
Coombs
Joule
Florence
c1887
Daughter
Dairy work
Coombs
Joule
Alice Miriam
c1890
Daughter
Dairy work
Coombs
Joule
Horace E
c1893
Son
Coombs
Joule
Sydney
c1896
Son
Coombs
Joule
Sarah Phylis
c1898
Daughter
Coombs
Ollernshaw
Sarah Phylis
c1836
Mother in law
Coombs
1911 Census
Joule
Joseph
c1857
Head
Farmer
Coombs
Joule
Grace Elizabeth
c1862
Wife
Coombs
Joule
Florence
c1887
Daughter
Dairy work
Coombs
Joule
Alice Miriam
c1890
Daughter
Dairy work
Coombs
Joule
Horace Edward
c1893
Son
Farm work
Coombs
Joule
Sydney
c1896
Son
Farm work
Coombs
Joule
Sarah Phylis
c1898
Daughter
Coombs