Above: The Cat & Fiddle team pictured in what was once the lounge bar (from l to r): Owen McCullough, Lindsay Bond, Karl Bond, Tom Ottley & Gem Hope.
It looks like the iconic Cat & Fiddle Inn, perched high on the moors beside the Buxton to Macclesfield road, and close to the source of the River Goyt, has been saved. Which after a couple of years standing derelict and forlorn, is wonderful news.
A crowd-funding appeal successfully raised over £54,000 to refurbish and reopen the pub (click for details). Husband and wife team, Karl and Lindsay Bond, owners of Macclesfield-based Forest Distillery, have signed a lease with Robinson's Brewery. Their plans include…
Have an onsite shop with take-away food and drinks for your picnics.
House a Whisky Distillery with the finest cellars in the land.
Create a World-Class tourism site to attract people to our beautiful local area.
Generate employment opportunities for local people, with the added bonus of attracting investment and more visitors to the wider region.
And of course, The Cat and Fiddle Pub, with roaring fires, good food, and the finest drinks for you and your family to enjoy in the years to come.
I asked Karl how the renovation work was going:
"Progress is slow to be honest! The gable end facing Buxton has a huge leak, which was pretty unexpected, so it is being repaired and repointed now.

"Next jobs are to get the water running clear, and then the huge task of the water treatment plant for waste water can begin. The floor in the main bar area has been badly water-damaged and needs major repairs or replacement."
So it sounds like they've got their work cut out! I also also asked if he has any idea when it's likely to open…
"Hopefully, we will begin some public things there in April, with a full opening planned for late summer… I repeat the word hopefully though!"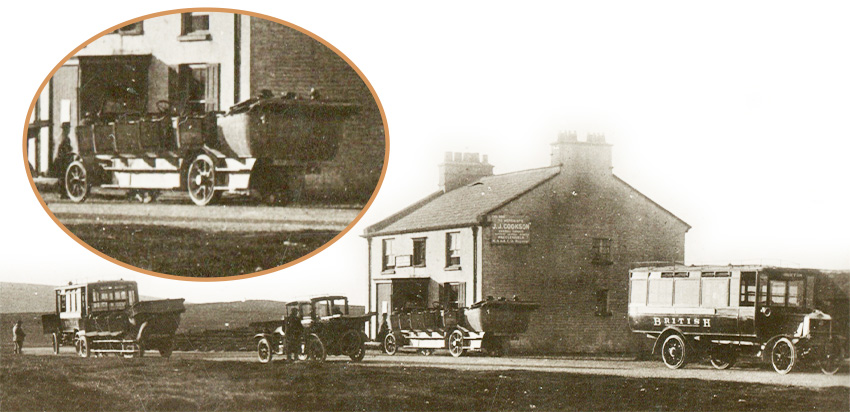 There are lots of old photos of the Cat & Fiddle on the website (click to view). And it's proved quite a challenge to date them. This is one of my favourites. I've never seen another open-top bus like the one circled above (click to enlarge).
The card was postmarked 1924, which I assumed must have been close to the time it was taken. But Neville, who lives in Connecticut and is obviously a bit of an expert on buses, has just been in touch to explain…
"Re the picture of the Cat and Fiddle with the 'British' bus; You note that the postcard was postmarked 1924, but I believe the picture might be some years old by then.

"The bus may give some clue as to the date. Bus services based in Macclesfield began in 1913 and used the fleet name 'British'. A service was operated over the Cat and Fiddle pass to Buxton but was suspended in 1916 due to the shortage of petrol. By 1923 the company had assumed the name 'North Western' and the buses were repainted, though how quickly that happened is hard to say."