Above: At the time of writing (August 2019) the Cat & Fiddle has been closed for a couple of years. It's a sad state for a once very popular pub. But it was a similar story some 100 years ago.
This famous pub, standing close to the source of The Goyt on windswept moorland, has been derelict for almost two years. The owners, Robinsons Brewery, have said there are plans to reopen it fairly soon. But nothing has yet been announced.
Mike has unearthed a couple of press clippings which reveal this isn't the first time the Cat & Fiddle has faced closure. The first clipping comes from The Sheffield Daily Telegraph of 21st August 1918 (click to enlarge).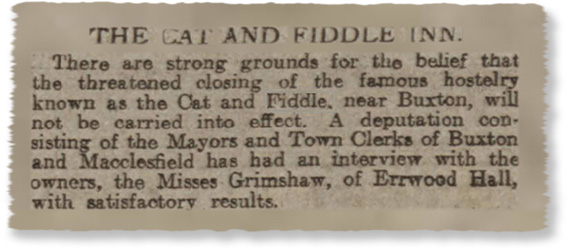 The pub was just inside the boundary of the Errwood Estate when Samuel Grimshawe purchased the land in 1832. His grand-daughters, Mary and Genevieve, had inherited the estate when their mother died in 1893. And it seems they were receptive to offers when the pub was faced with closure in 1918.

A report in The Daily Mail just a few weeks later, in September 1918, revealed that it had been saved by Mr Herbert Frood, the inventor of Ferodo Brake Linings.
I must admit that I'd never heard of Mr Frood. But 100 years later, it would be great if the current owners could find another local benefactor willing to dip into their pockets to save this iconic pub.
I have heard rumours that a local businessman has approached Robinsons with plans to turn it into more of a walkers' and cyclists' pub. Let's hope the brewery proves as receptive as the Grimshawe sisters.

Quick links
Click here for a gallery of photos featuring the Cat & Fiddle.
Click here for more information and census records.

Postscript: Janette has explained something that I didn't know: "Frood invented the brake lining and established the Ferodo factory in Chapel en le Frith. Ferodo is an anagram of his wife's name E. Frood (1st name Elizabeth)."

Page update: October 2019
Good news at last on the fate of the Cate & Fiddle Inn. Robinsons have found a new tenant to take over this iconic pub – Forest Delivery. And they have launched an exciting crowdfunding project to incorporate a whisky distillery, using the building's network of cellars, and a shop. Click here for info.