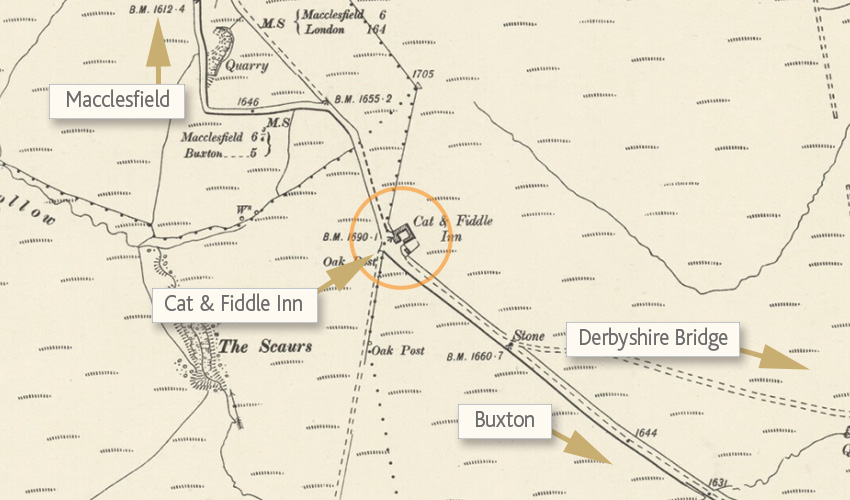 Above: Set on remote moorland close to the border between Derbyshire and Cheshire, the pub was often cut off during severe snow storms – sometimes for weeks at a time. (Click map to enlarge.)
Above: For a long time the Cat & Fiddle held the record for the highest pub in England at an altitude of 1690 feet. Until someone discovered that the Tan Hill Inn in Cumbria was slightly higher at 1732 feet! The name of Matthew Beetham can clearly be see above the entrance door. He is listed on both the 1901 and 1911 census returns.
The Cat & Fiddle Inn
The Cat & Fiddle Inn is one of the most famous pubs in the country, often featuring on news reports when it's cut off by winter snow storms. It lies close to the source of the River Goyt and was on the border of the land purchased by Samuel Grimshawe in the early 1830s. Samuel soon found himself in dispute with the Earl of Derby who maintained that it was on his land. But Samuel eventually won his case.
Four families appear on the census records – The Wains, Cottrells, Truemans, and lastly the Beethams (see photo above). Today, the pub is a popular meeting point for both walkers and motorcyclists. And it's easily accessible from the walks featured on this website, including walk 11 which starts from Derbyshire Bridge, and walk 15 from Errwood to Goytsclough.
Click here for more information about the Cat & Fiddle, including some old newspaper clippings about the Duke of Devonshire's visits in the mid 1800s.

Page update #1
Corrie has very kindly allowed me to scan her collection of old postcards of the Cat & Fiddle. They include some wonderful examples (click card on the left to enlarge), with some fascinating detail. Click here to view them all.

Page update #2
Postcards of the Cat & Fiddle posed a bit of a mystery about when the pub was extended. Mike has managed to find a press clipping from The Sheffield Daily Telegraph dated 13th June 1925 which shows it must have been soon after this report was published. (Click the clipping to enlarge.)
Surname
First name
Born
Relationship
Occupation
Birth place
1841 Census
Wain
John Marsden
c.1810
Head
Publican
Taxal
Wain
Edward
c.1811
Brother
Grocer
Ollerenshaw
Priscilla
c.1815
1851 Census
Wain
John Marsden
c.1810
Head
Innkeeper
Taxal
Wain
Priscilla
c.1815
Wife
Bottoms
Elizabeth
House servant
1861 Census
Cottrell
Thomas
c.1812
Head
Buxton
Cottrell
Anne
c.1836
Daughter
1871, 1881, 1891 Census
Trueman
Joseph
c.1835
Head
Innkeeper & farmer 12 acres
Wildboarclough
Trueman
Elizabeth
c.1837
Wife
Wildboarclough
Trueman
Emily
1859
Daughter
Barmaid
Wildboarclough
Trueman
Sarah E
1862
Daughter
Waitress
Wildboarclough
Trueman
William
c1870
Son
Taxal
Trueman
Martha
c1875
Daughter
Taxal
Trueman
Amos
c1872
Son
Taxal
1901, 1911 Census
Beetham
Matthew
c.1858
Head
Sheffield
Beetham
Georgina
c.1859
Wife
Buxton