Above: Bunty and Lucy (the dog) with one of the last groups of children she taught there, pictured in 1972.
Chris Wilman was brought up close to the Goyt Valley and remembers one of her favourite teachers…
'Bunty' Sidebottom was the teacher at the hamlet of Fernilee's infant school. In the single roomed building, she taught children from 4-7 who lived in the rural area of Shallcross estate, Fernilee and the farm lands around that area.
For many these were the best days of their life, not least because of the beauty and presence of the beloved teacher, known affectionately as Bunty. She was extremely glamorous and had friends in high places in TV land: the BBC and Granada, Manchester.
Born June O. Wheeldon in West Derby (Bootle) in 1927, she was the third child of parents who were both born and raised on Derbyshire Farms. Her father was a police inspector in Buxton by the time the family came to Oldfield Farm, Fernilee, after her mother died.
She married Walter Sidebottom, a businessman, in 1954. They never had children, but in a way, she had hundreds. They had a long and happy marriage, living for many years in the row of houses set up from the road at the end of Elnor Lane, Fernilee end.
In later years, and until she recently passed away, Bunty had been writing ghost stories about the many ghost legends she'd come to hear about since she and Walt retired to Angelsey (click to view some of them on Amazon).
She died a widow, aged 92 in 2019.
When I used to phone her in about 2013/14 she would reminisce about her days teaching me at the little school (which is next to the Shady Oak). Her memory was so great she remembered the dress I was wearing at our Christmas party in 1966!
She was an instinctive teacher; she took us on nature walks, picnics down to Billy goats bridge ( Hillbridge down Taxal), and allowed us to make her coffee, even aged 6 years old. We would even be sent to the petrol station next to the school, to buy Miss her cigarettes!
In summer, just before we broke up, we would have paddling pool day. This consisted of Mr Smith the caretaker, blocking up the drain at the bottom of the playground. A hose pipe was connected to a tap in the girl's toilets and the entire bottom area of the playground would be flooded to a depth of about a foot! We had a fantastic time!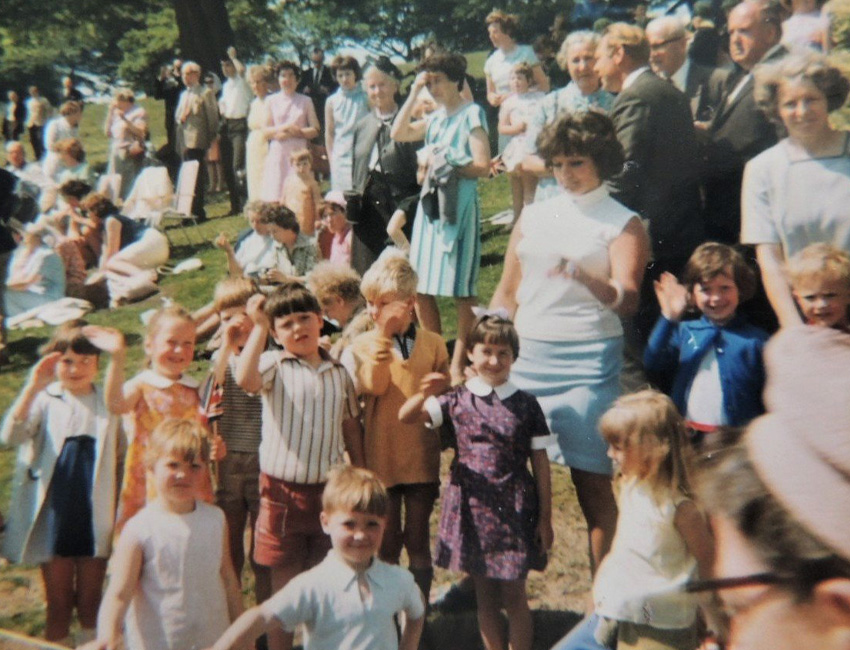 Above: Bunty with some of her class pictured at the opening of Errwood Reservoir in June 1968.
Her dogs, Pip & Lucy, mother and daughter border collies, came to school every day. If anyone fell over in the playground and scraped their elbow or knees, one of the dogs would be called to lick the wound clean before 'magic cream' was applied.
At Christmas we would decorate the whole school room. She would suddenly tell us to count to 30, and at 30 we would see snow falling, and we did! We believed she was magic!
Brian Rogers, Whaley's blind piano teacher, would come to school every year and tune up the piano. I remember hearing him play as we went about our lessons. He always ended with Bunty's most favourite tune: Fuer Elise.
One Christmas, when I was 5, we had the BBC come to school. They were recording us singing carols to be played at a children's hospital (I think) in Manchester. I had a solo verse of the Holly & the Ivy, which I can still remember doing to this day.
She was a disciplinarian too, like most teachers in those days, but we loved and respected her.
Famous people used to come to school too. She and Walt had many friends. One was Coronation Street creator 'Tony Warren' (real name Anthony McVay Simpson, MBE). On one of our phone calls, Bunty told me that he wrote his first scripts for Coronation Street sat on their lounge carpet.
The best part of each week was story time. The entire school: baby group, middle group & top group (probably no more than 15 altogether) would gather around her, sat on the floor, as she sat on the chair in front of her desk. If you were the 'chosen ones' , one of you was the knee-scratcher, the other the hair-picker.
The only time I was hair-picker, I felt so important! We would position a chair behind 'MisSi'tom' and pick off stray hairs from her neck, shoulder, clothing. It was such an honour. What she did though, by creating this scene, was to create a close bond and focal point for story-listening. We were held enraptured.
We had our little quarts of milk in those days.The crate used to be left on the top step of the entrance door, on the outside. In summer, with the sun beaming on the crate, the milk would often be on the turn. I still can't stand the smell and taste of thick, lukewarm milk.
Dinner would be brought in daily from Whaley School where it was packed into large round, steel containers and driven up to us.
Mrs Plant was our 'dinner lady'. She lived in the cottage at the end of Elnor Lane, where you cross over Long Hill to go down to Fernilee hamlet. Harold Smith, who lived in the waterboard cottages (built from stone from Errwood Hall) worked at the Water Treatment Plant down by the river at the floor of Fernilee Dam. He was our caretaker and odd job man.
We learned by rote, and we were taught to stand up and greet guests when they entered the classroom, and at the end of every day, we'd put our little chairs on top of the tables and say our prayer:
Hands together, softly, slow, little eyes shut tight.
Father, just before we go, hear our prayer tonight.
We are all thy children here, this is what we pray:
Keep us close throughout the year and through every day
– Amen.