Above: The murder stone lies well-hidden beside the back road between Whaley Bridge and Disley.
Three young men were soon identified as the killers. But only one was tried, convicted and sentenced to death.
I've always thought the story of William Wood's gruesome murder, on the road between Whaley Bridge and Disley in 1823, would make a great drama documentary (click here to read the first of 10 instalments). Three young men brutally killed the father-of-three for his money, and escaped on foot through Buxton to Macclesfield, where they narrowly avoided arrest.
Without giving too much of the plot away, one of the murderers vanished completely, never to be heard of again. One was soon arrested but committed suicide in prison before facing trial. And the youngest, 19-year-old Joseph Dale, was publicly executed outside Chester Prison.
The story has all the ingredients of an intriguing murder mystery. So I was delighted when a couple of people got in touch to ask whether they could use some of the information I'd managed to discover.
Cath Mudford is a volunteer at Macclesfield's Talking Newspaper for the Blind. They create a weekly summary of local news for visually impaired people living in and around Macclesfield. "This is exactly the sort of story our listeners would love," explained Cath. "Particularly since some of the action took place in the town."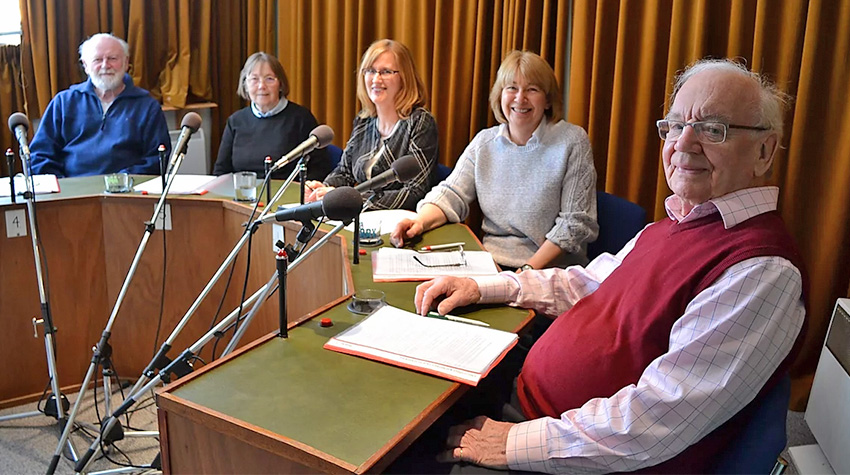 Above: Members of the Macclesfield & District Talking Newspaper team.
Click the play buttons below to listen to each seven-minute part.

This YouTube video was produced by Alan Buckel and tells the same story using a creative combination of text and illustrations.
I'd love to know more about the descendants of both William Woods and the three murderers. Particularly what happened to the one that escaped justice; Platt. Alan thinks that one of William Wood's brothers may have fought at Waterloo. I'll update this page if I learn any more.