Above: The poignant remains of a training aircraft that crashed close to Shining Tor in 1944. It's said that the three crew survived – only to die of exposure some days later.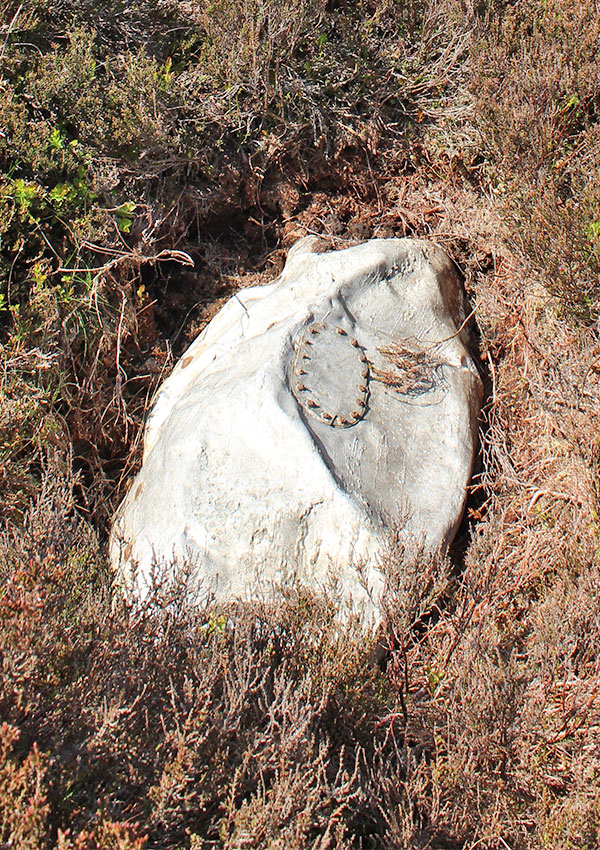 Above: The first part of the plane I came across was this metal casing (click to enlarge). The Air crash website describes this as a fuel tank.
…have you ever visited any of the several WWII aircraft wreck sites in the valley? There's a particularly well-preserved example a short distance from the Cat's Tor to Shining Tor path. Stumbled across it the other evening.
David's message took me by surprise as I hadn't heard about the crash site before. Intrigued, I headed up there yesterday, in glorious sunshine, to see what I could find.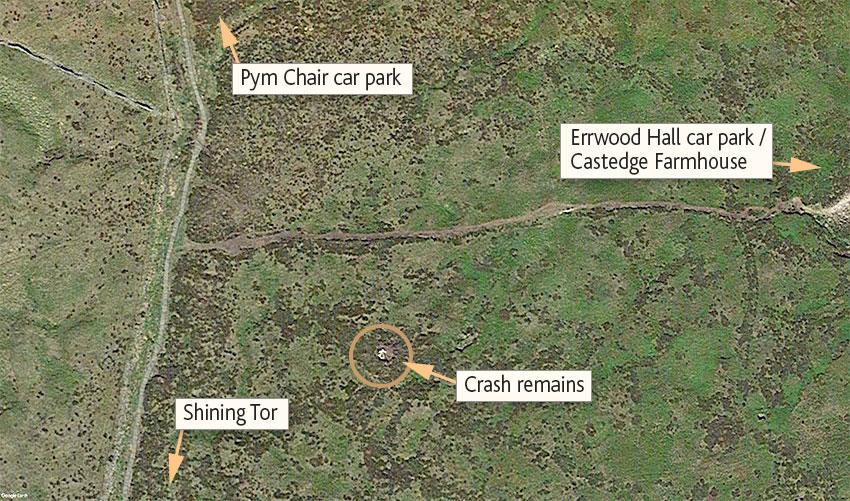 This satellite image shows the crash site (click to enlarge). Click here to view the position on Google Maps.
I started from Errwood Hall car park, walked past the ruins of Castedge Farmhouse, and followed the path up the slope until just before it meets the path running between Pym Chair and Shining Tor. The remains are fairly easy to spot, just a few yards across the moorland, on the left.
The first evidence I came across was a curved sheet of what looked like aluminium casing, about 3′ x 18″, embedded in the peat. A few yards further lay a small collection of metal parts and broken machinery, with two small wooden crosses standing beside it.
These are all that remains of an RAF training flight which crashed here on 12th March 1944. David also sent a link to a UK air crashes website which includes details of the accident…
Oxford LX745 crashed near Shining Tor in the Peak District with the loss of all 3 crewmen. This was a training flight with a pupil pilot at the helm. He descended in low cloud believing he was over the base at RAF Calveley near Crewe.

In fact the aircraft was off course due to a change in wind direction and was some 28 miles from base when it crashed on 12th March 1944.

Cunningham cites a local shepherd, a Mr Albert Heathcote, who said the bodies of the men were found sitting beside their crashed aircraft – they had survived the impact but died of exposure waiting for help to arrive (the aircraft not being found for some days after the crash).

This detail about the crew is not recorded elsewhere to my knowledge, but that's not to say the shepherd got it wrong.
It sounds bizarre that all the crew would survive the crash, and then die of exposure waiting to be rescued for 'some days'. It's not as though the location was that far from civilisation.
But it was wartime, they were off-course, and wouldn't have been sending distress messages to report any mechanical failures. It was also bad weather, so perhaps no-one spotted them crashing into the hillside.
I asked Mike if he could search old newspapers for anything that might cast some light on things. But although he found reports of similar crashes in the area – including one of the same aircraft type which crashed 'at Wildboarclough near Macclesfield' in 1946 – he drew a blank.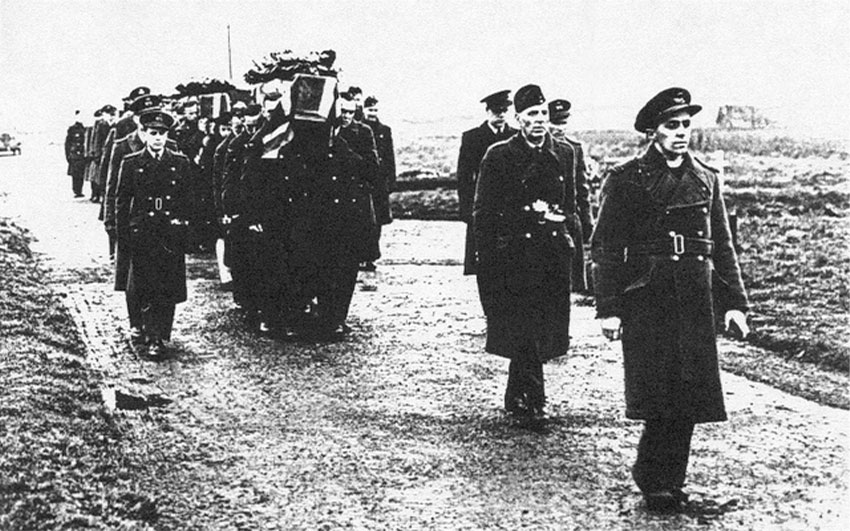 I was also hoping to find out more about the crew of three. According to the air crash website, they were…
Flying Officer Charles Stuart Grant Wood; Pilot Instructor (33)
Pilot Officer Gerald Campbell Liggett; Pupil Pilot (22)
Flight sergeant Joseph George Hall; Navigator / Wireless op (21)
I found this website that commemorates aircrew that died on service. It gives the reason for the accident as 'may have crashed due to bad weather'. It also includes a photo taken during the funeral for all three (above). And one of F/O Legget, which I've inset into a photo of the aircraft; an Oxford LX745 (below).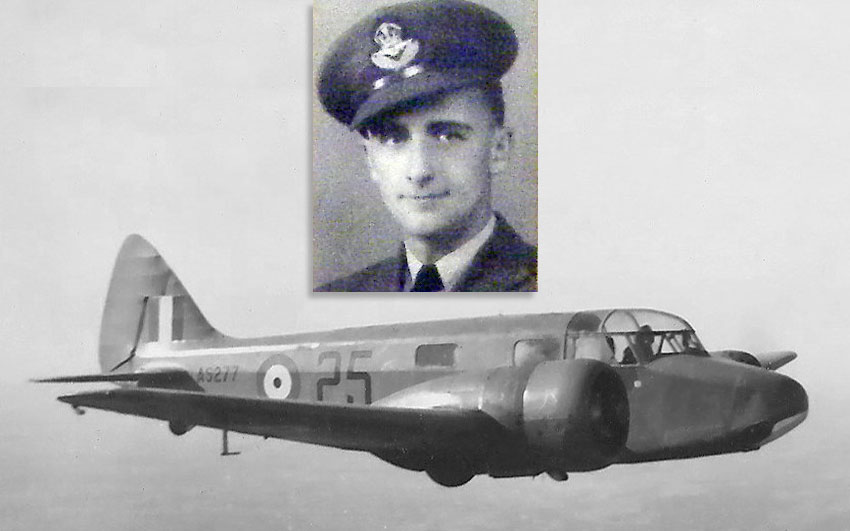 Page update: This YouTube clip shows an amateur excavation of the site, with photos taken in 1981, and video in 1987. There's no commentary, but a caption says the airmen weren't discovered for some five days after the crash.
It also shows that quite a number of remains were found buried beneath the surface peat. I wonder where they ended up.