Above: Walkers of all ages set out from Buxton at a cracking pace at the start of the 25-mile route.
I have to admit that I'm a bit of a fair-weather stroller when it comes to walks. A gentle eight miles with blue skies and picturesque views is my perfect day. At 12 miles, my legs tell me they've had enough and that I should find a decent pub to recover. So the thought of 25 miles, walking against the clock in all weathers, really isn't my cup of tea.
But members of the Long Distance Walkers Association are made of sterner stuff. The South Manchester group was recently in the Goyt Valley taking part in a 25-mile challenge. Times ranged from the fastest at a whisker under an impressive four hours, down to a more sedate 10.5 hours. Celia took part and sent me a link to the route (below: click to enlarge).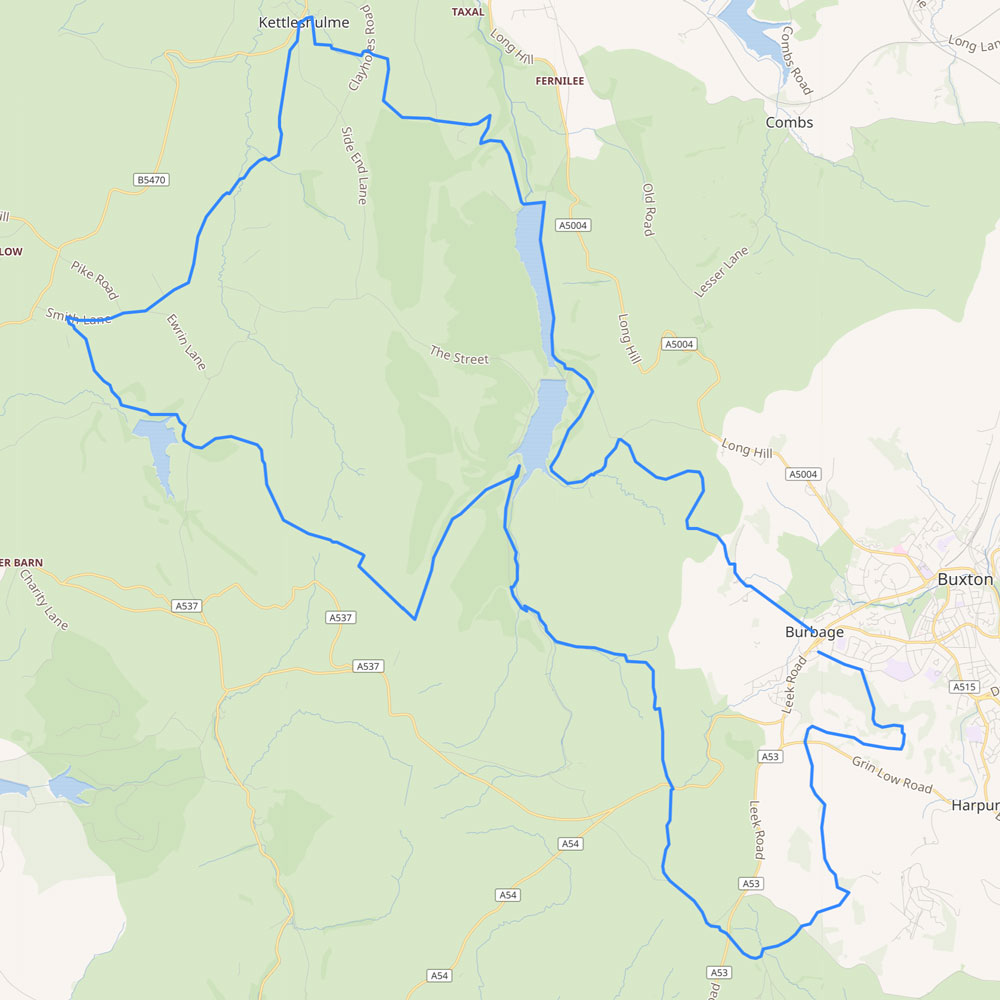 For those like me who would find 25 miles too daunting, it would be fairly easy to split the walk over two 12 mile days by starting from the main carpark at the northern end of Errwood Reservoir. Or if you prefer using public transport, the southern section from Buxton, and the northern from Kettleshulme.
The SMLWA's website has a gpx file of the route (click to download). I used the file to create this 'Relive'. And loaded it into my ViewRanger walking app. This should make following the paths fairly easy – as long as my phone battery holds up.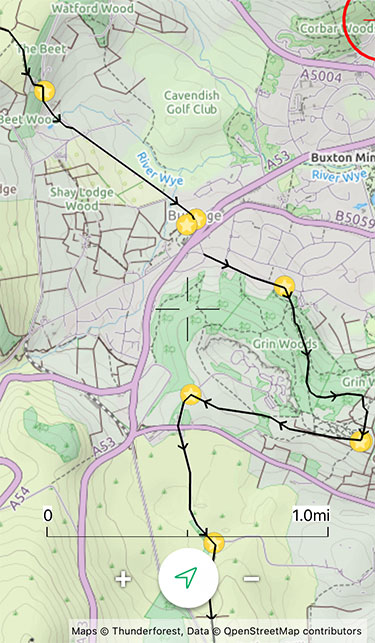 Above: The start and end of the gpx route on the free version of the ViewRanger app.
Walking apps v. GPS devices
I've looked at buying a GPS device like a Garmin. They're built for outdoor use, so are less fragile a phone. And the battery lasts far longer. But they're expensive, especially if you want to download detailed maps. And the display is nowhere near as clear as a smartphone.
There are quite a few walking apps available, but ViewRanger seems to be the most popular. It will try and persuade you to pay around £5 a month for the 'premium' version. This includes all OS 1:25 000 maps. But I find the ones that come with the free app fine (see screen grab). And you can purchase OS map 'tiles' if you want more detail.
Most GPS devices and apps allow you to plot routes before and during a walk. But with ViewRanger, you can easily share them with others. Which can be useful.
The main disadvantage of both is when they go wrong. Which can happen with any electronic device, especially in poor weather. Serious walkers will always stress the importance of learning how to use a map and compass. But for the moment, I'm happy to rely on my ViewRanger, plus a portable battery charger in case it runs out of power.
Get in touch if you'd like help with getting started with ViewRanger. I use it on an old iPhone, but I think it's fairly similar to set up on any smartphone.

Topic tags (click for similar posts):
Walks