Above: 'Lest we forget!!'. Perhaps it's written by a soldier to his sweetheart, remembering a trip along the valley they shared when he was on leave from the trenches.
I sometimes buy old postcards of the Valley if they're not already on the website, or if there's something interesting about them.
Although this view along the road from Derbyshire Bridge towards Goytsclough isn't particularly scenic, I noticed the words "Lest we forget!!" handwritten along the road. So I wondered whether the sender may have been a soldier in the First World War. Or perhaps lost someone close.
The postmark shows it was sent from Buxton on 4th February 1918 – some nine months before the armistice. It's addressed to Miss M Evans in Mansfield, but I can't make out the sender's name, or most of the message.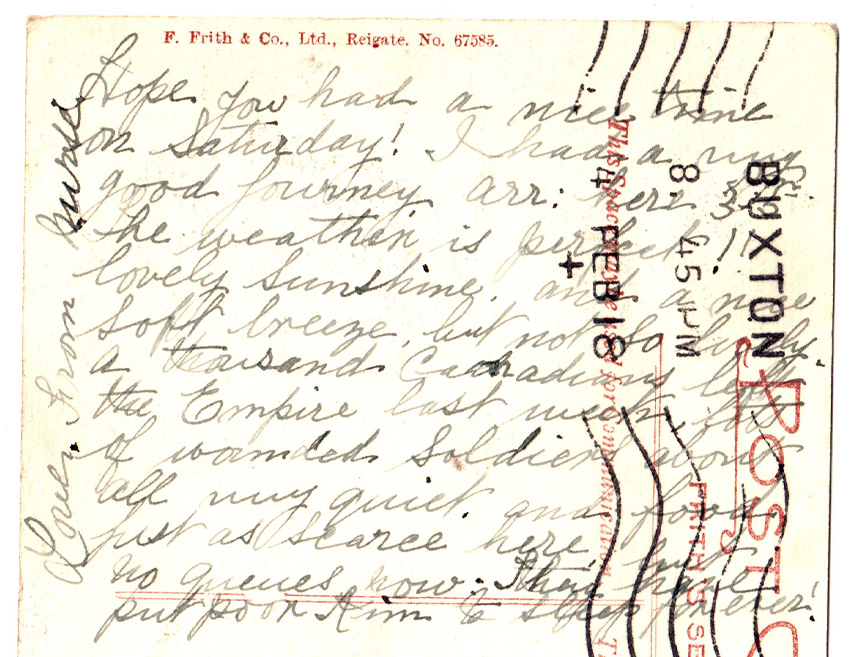 I've increased the contrast on the image above to try and make the words a bit clearer (click to enlarge). But I'm still struggling to decipher it. I just wondered whether anyone else might be able to work out what it says.
I'm afraid I can't offer any prizes! But all suggestions would be gratefully received. Simply use the comment box below.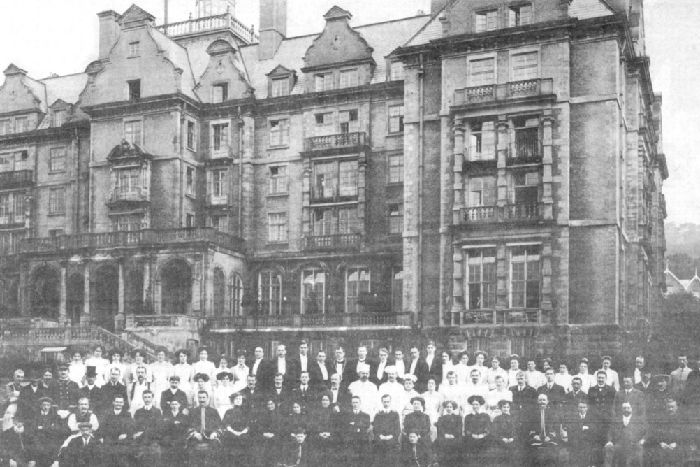 Page update:
My thanks to Gail and James for deciphering the message
(see comments below)
. I didn't know there'd been a large hotel in Buxton called The Empire
(above)
.
According to the Buxton Advertiser
, it became a squatters' refuge and was demolished in 1964.
I was interested to read that rubble from the demolition was used to fill-in the old railway tracks during the transformation of Harpur Hill's underground ammunition dump into a mushroom farm. Particularly since I used to work at the mushroom farm in my long-distant youth!
I was also curious about the words 'Lest we forget'. I assumed the phrase must have originated following the end of the war – and after the card had been written – as it's associated with Remembrance Day services. But this web page explains that it's from a poem by Rudyard Kipling commentating the Diamond Jubilee of Queen Victoria in 1897.