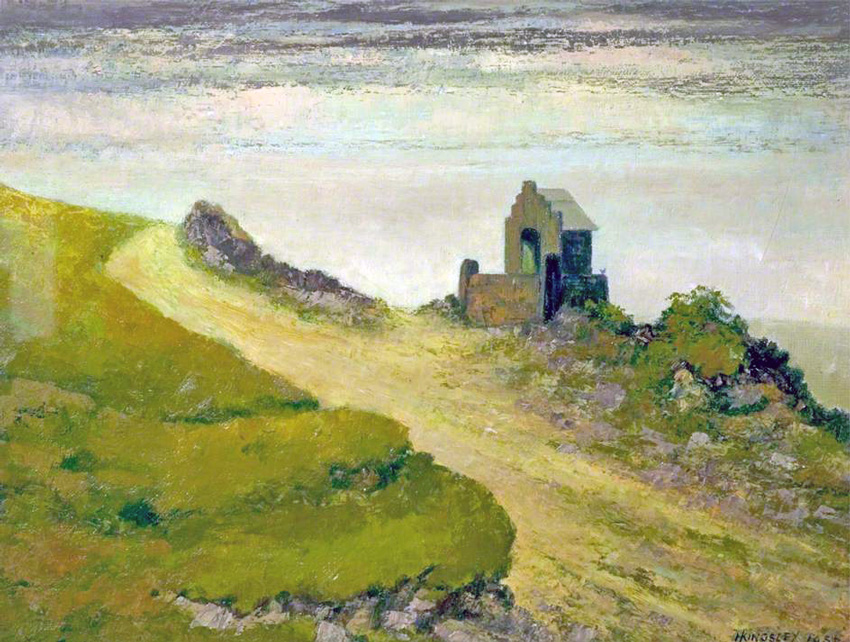 Above: Click to view a larger image of the painting. If anyone can help identify the artist, please get in touch. Or leave a comment below.

Above: The artist's signature (click to enlarge). Can anyone make it out?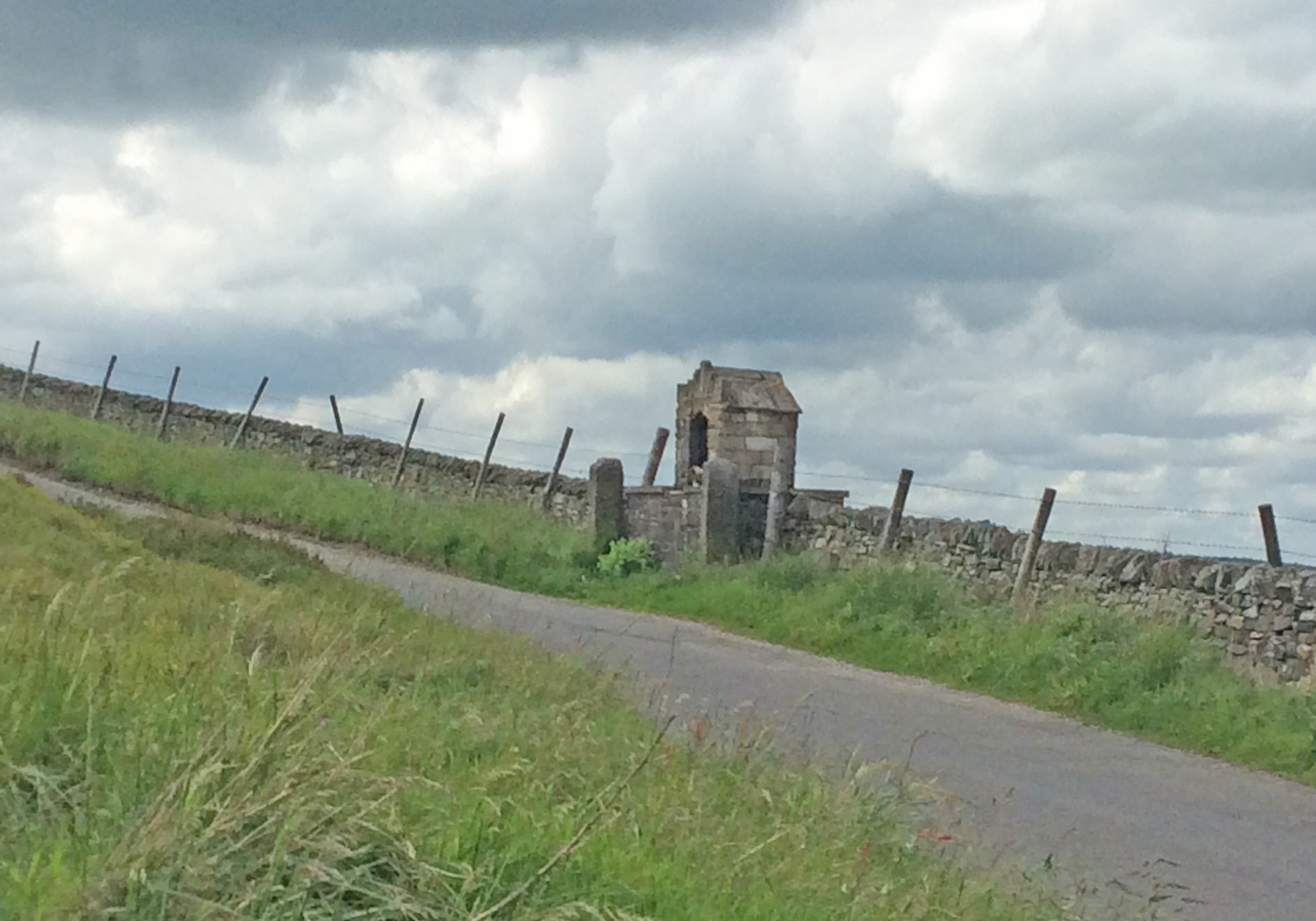 Above: The shrine today, taken by Gail under grey skies in early June 2017. (Click to enlarge.)
Here's another little gem recently discovered in Buxton Museum's art collection. Most visitors to the Valley, approaching from the Buxton end of the Whaley Bridge road, will recognise this small shrine, set into the dry-stone wall beside the lane on the approach to the twin reservoirs.
It always seems to be decorated with flowers – no matter what time of year. I don't know when the shrine was built, but I'm guessing it dates from the time of Samuel Grimshawe, the owner of the Errwood Estate, who converted to Catholicism in 1851, shortly after the death of his father.

Page update #1:
Mike has discovered the name of the artist: Harry Kingsley (1914-1998). And Gail thinks the date is 1954.
Click here
to view more examples of Harry's work. And
click here
to read more about his painting of the shrine.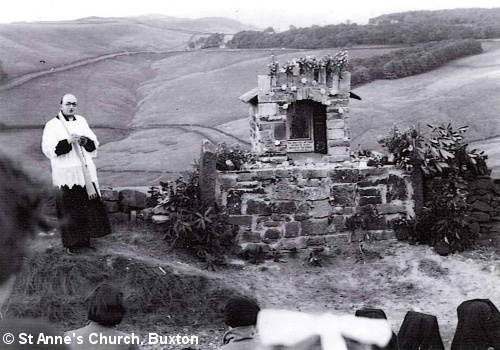 Page update #2:
Gail has discovered a webpage explaining all about the shrine. As well as information about its history, the page includes a slideshow of photos showing the shrine being blessed
(example above)
.
Click here to view
the page.

Built in the '50s by Brian Foxton
It seems I was wrong to think it had been the work of Samuel Grimshawe. It was actually built in the 1950s by Brian Foxton, who claims it was the first shrine to have been built on public land since the Reformation in the early 1500s.
But there is a connection between the shrine and the Grimshawe family. It's maintained by St Anne's Church in Buxton. Samuel Grimshawe donated £100 towards the cost of building the catholic church in 1860. And later that year, his 7-year-old daughter, Genevieve, laid the foundation stone.
Sheila got in touch via the Goyt Valley Facebook page with some more information on the shrine. She used to work for Buxton Lime Industries and discovered this article in a 1955 edition of the company's newsletter:
"Well over 1,000 feet above sea level on Sandy Lane, a rough cart track off Long Hill, this wayside stone-built shrine stands exposed to the bleak moorland weather. Dedicated to Our Lady of the World, it was built by a member of the Drawing Office staff, Mr S B Foxton, who, working in his spare time, completed the shrine in five weeks.

The task was not without many difficulties, the chief of which being a shortage of water for mixing the concrete. This had to be carried in buckets from a stream about half a mile away.We understand from Mr Foxton that it is probably the first shrine to be erected on public land since the Reformation.

Built of local sandstone, the picture in the centre is mosaic surrounded by white marble. The background to the picture is chemical waste, dyed green, and on each side are two pot roses which came from a convent in Lisieux in Northern France.

A local gravestone maker supplied the marble at the foot of the mosaic, and the inscription thereon is in letters of lead. The roof slates protruding at each end of the shrine were also obtained locally from an old house in Buxton.

Mr Foxton considered that the most difficult part of his task was setting the picture and making the arch. We congratulate him on the excellence of his work."