Above: The grave of Irma Niorthe is at the back, on the left. Click here for more information on this small, hilltop graveyard.
I've heard a few tales about ghostly goings-on amongst the ruins of Errwood Hall. Of strange noises in the wind that were said to be the voices of people who once lived in and around this magnificent country house, perched on the hillside above the Goyt Valley. So I was interested to read a first-hand account on the Whaley Bridge forum.

It was written in 2012 by Jen, who would now be 75 (I have edited it slightly). For my part, I can believe she saw an apparition of a group of men and women gathered around a horse and cart. And maybe they would have been taking a coffin up to the hill-top burial ground. But who knows…
It would have been sometime in the late 1970s, early 1980s. I went up to the Goyt Valley one Sunday. It was a nice, sunny day – possibly May – and not in a holiday as there weren't many families with children about. I thought I'd have a look at Errwood Reservoir which was crammed with folks with binoculars staring at some bird on an islet in the reservoir.
I was told it had flown in from Russia, or some distant land, but not being interested in birds I decided to follow the path up to the old house. I had never before visited the house or the reservoir, but knew that the house had been demolished, and had no idea who had lived there – and did not know the layout of the estate.
I arrived at what I presumed were some of the house ruins. There were some steps/platform of stone or brick, bits of wall, etc. I dimly remember what might have been a covering over steps going into an old basement or similar. I can't remember what else, but when standing on the 'platform' with my back to the walls there was a path going from in front of the house, up a track to somewhere.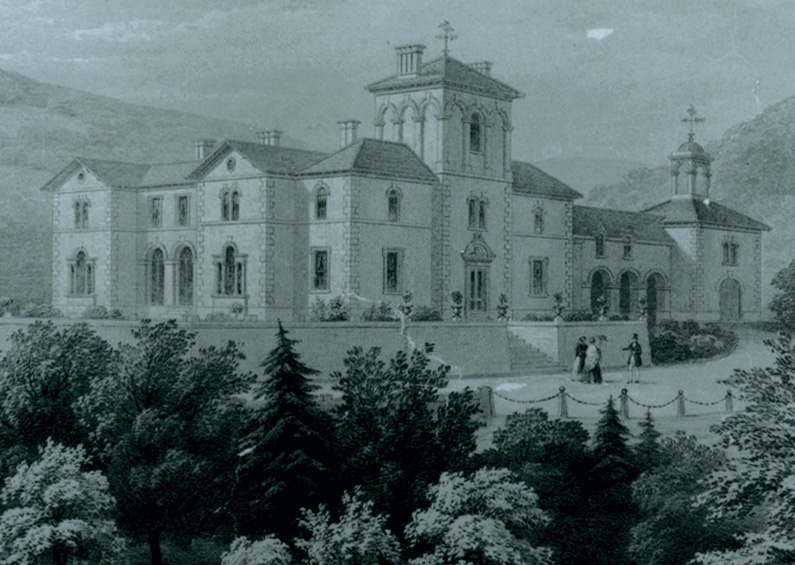 Above: It sounds as though the area in front of the house is where Jen saw the people with the horse and cart. The stables are to the right. To the left, the path in front of the house connects with the lane running between Goyt's Bridge and Castedge Farmhouse. The burial ground is on the hilltop behind the farmhouse.
With me was a small family of father and a couple of children. The children were talking cheerfully and quite loudly while jumping off the wall, or the platform edge, and coming back up again to jump down once more. I turned back to the path side. Suddenly all the children's noise stopped. Everything went quiet.
About 15 or 20 yards in front of me to my left was a farm cart with slotted wooden sides. I don't remember the design of the front of the cart, but there was a horse between the shafts. I don't know whether there was a means of closing the back of the cart. I also have a feeling that the side panels had horizontal, rather than upright bars. It was this type of general farm vehicle that I saw. I am also not sure of the wheel size. But it was a cart, and not a wagon.
There was something in the cart. I couldn't see clearly because behind the cart there were two or possibly three woman. Holding the bridle/reins of the horse at the front of the cart were two men. One on each side of the horse's head.
The man holding the horse's bridle was looking towards me – he had dark hair and a hat. The other, who was smaller was looking away, wore a cap. They were wearing reasonably tidy, darkish jackets and trousers. I can't remember what they had on their feet.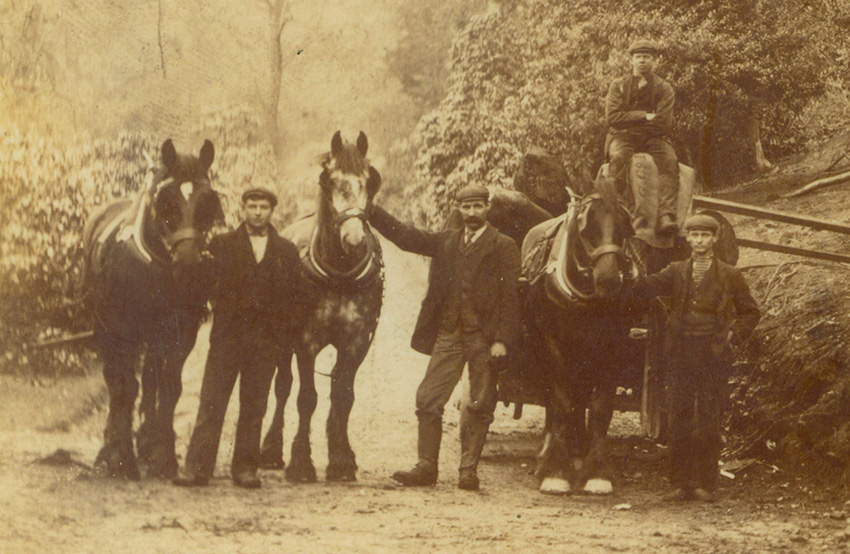 Above: This photo shows a group of men from the Errwood Estate working with a typical horse and cart of the period. But I'm not so sure the family would have taken coffins to the their hilltop graveyard in such basic transport!
The women were wearing what I know now to be late 19th, early 20th century dress. The woman's dress I saw clearly. She was wearing a black long skirt which came down close to the ground. She must have had petticoats underneath because the skirt was quite full. Possibly I saw boots.
She had her back to me and had a short black cape-type over-jacket on – not sleeved. One of those that can be buttoned down the front, and only comes down to the waist. This was black as well.
The women wore hats with brims – not fussy or posh, what I would call 'Sunday go to meeting hats'. I think this woman might have been in her fifties or so. She was quite plump. Her companion I did not see clearly, as she was on the furthest side of the cart, but was younger and thinner I think. There might have been another youngish woman with her as well.
I thought "Where have these people come from so suddenly?" And just as suddenly they had gone and the noise of the children playing came back to my ears. I looked round to see if the other people had seen anything, but clearly they hadn't and were still chatting to each other.
I am not sure how long I was looking at them. Not long – perhaps 8 secs or so, less than 10 secs. They didn't move or speak as far as I remember. They just appeared.
After a few minutes I thought I would walk up the track that the cart was clearly going to go up – to see what was up there. I was very surprised to find a small graveyard. One grave stood out for me, and this was the grave of Irma Niorthe.
I had a vague memory that her gravestone mentioned the word governess. But perhaps I was imagining this. On the 1881 census her occupation is given as Ladies Maid (class: RG11; piece: 3490; folio: 65; page: 11). I only looked at this today – and there were no children in the house in 1881.
Having gone up the path and found the graveyard, I wondered whether the cart had been carrying a coffin. I was not conscious of seeing a coffin shape, but remember seeing something through the sides of the cart. The posture of the people suggested that it was not a normal household occasion.
Naturally I have no idea who the deceased person was – maybe not Miss Niorthe at all.
Also, I was not frightened at all. There was no reason to be. At the time these people suddenly appeared I may have been wondering about what the old house might have been like, and who had lived there. So perhaps I just tuned in to somewhere else for a few seconds.
I am now 71, and hadn't thought of this adventure for years now. But I think I have written here what happened that day. Unfortunately I have never been back to Errwood.
If it suits anybody to use this material please help yourselves, but name me. I research local history where I live and it is not very helpful to have to quote stories without naming the primary source ! At the time of this little adventure I was living in Macclesfield and working for James Loughran / Halle in Alderley Edge. Happy Days!