Above: a newly erected gate and stretch of fencing along the old Cromford & High Peak Railway track.
They mystery over the fencing that started appearing over a year ago in various parts of the valley seems to have been solved. A recently erected noticeboard (below – click to enlarge) at the top of Old Goyt's Lane explains that it's part of a scheme to reintroduce sheep as a way to control vegetation.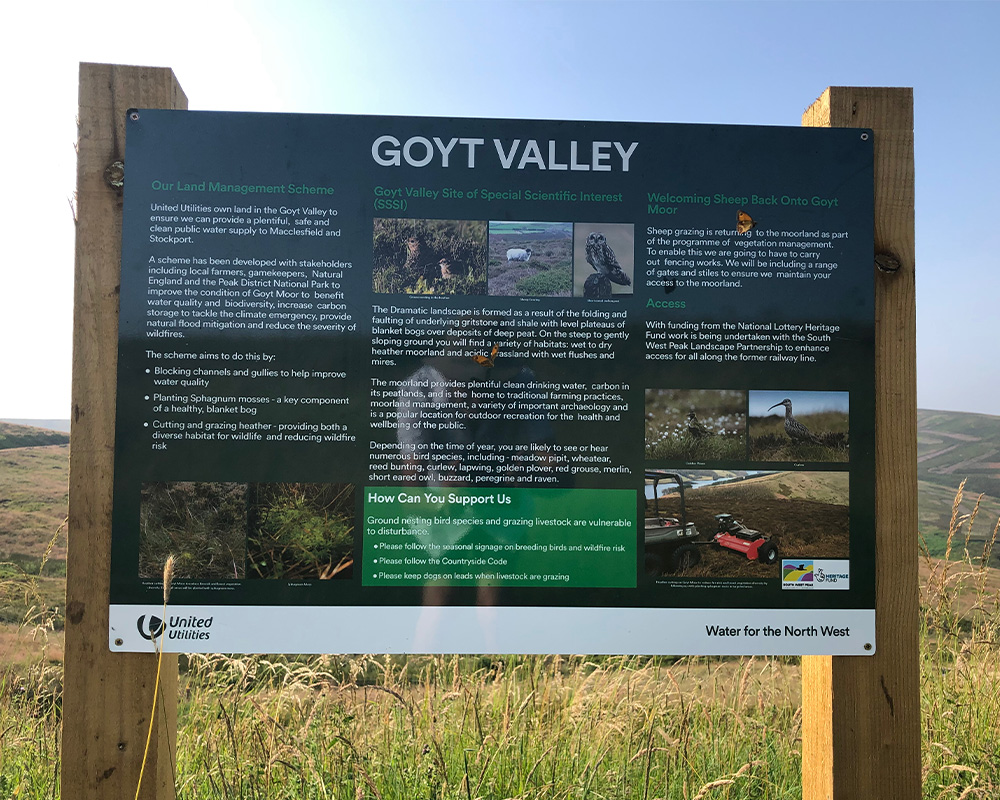 I've copied the relevant information from the board:
Our Land Management Scheme
United Utilities own land in the Goyt Valley to ensure we can provide a plentiful, safe and clean water supply to Macclesfield and Stockport.
A scheme has been developed with stakeholders including local farmers, gamekeepers, Natural England and the Peak District National Park to improve the condition of Goyt Moor to benefit water quality and biodiversity, increase carbon storage to tackle the climate emergency, provide natural flood mitigation and reduce the severity of wildfires.
The scheme aims to do this by:
Blocking channels and gullies to help improve water quality
Planting Sphagum mosses – a key component of a healthy, blanket bog
Cutting and grazing heather – providing both a diverse habitat for wildlife and reducing wildfire risk
Welcoming Sheep Back Onto Goyt Moor
Sheep grazing is returning to the moorland as part of the programme of vegetation management. To enable this we are going to have to carry out fencing works. We will be including a range of gates and stiles to ensure we maintain your access to the moorland.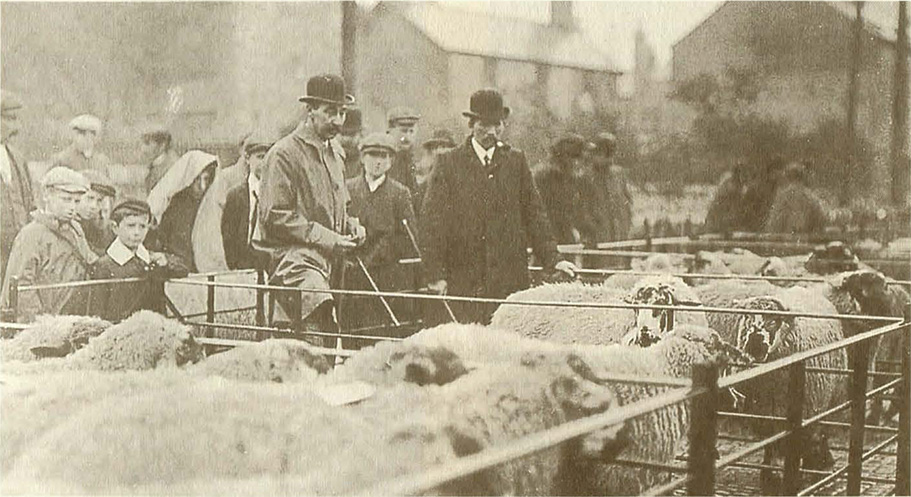 Above: A photo in Goyt Valley Romance captioned: 'William Trueman on left, with his Gritstone Sheep at the market' (click to enlarge).
I'm trying to discover when the sheep will be introduced. And whether they will be a particular breed. Gerald Hancock mentions a breed called 'Dale o'Goyt' in his Goyt Valley Romance:
Sheep were very important to Goyt Valley farmers for it was a major part of their livelihood. Early reference around the year 1750 names them as the Dale o' Goyt sheep, or the Limestone Breed.

About the year 1850, the farmers of the Goyt began to establish a uniformity in their breed, aiming at a hardy, disease free animal that could survive harsh weather conditions on poor ground, and produce a lively lamb, and a useful carcass.

Careful selection and wise matings by these breeding pioneers, produced a recognised type of sheep, able to forage on the poorest grazings, and to survive the bleakness of the Derbyshire uplands.

In October 1906, twenty seven farmers came together, to name the Derbyshire Gritstone and to form the Derbyshire Gritstone Sheepbreeders Society, under the presidency of the Duke of Devonshire, with William J. Clark of Alport, Bakewell as secretary.

A flock book followed shortly afterwards listing nineteen flocks of acceptable Gritstone sheep within an area of about eighty square miles, fringed by Macclesfield, Hayfield, Chapel-en-leFrith, Buxton, with one flock out at Chesterfield to the east.

Among these flocks, which included the Earl of Derby's sheep at Wildboarclough, Hellier R.H., Gosselin Grimshawe's Sheep, the Errwood flock of T.B. Hibbert, and the Goytdale flock of William Trueman at Goyts Bridge, with Henry Hodson's flock at Overhill. All the flocks were of historical interest in development of the breed.