Above: The stone-edged circle on the right was fairly easy to spot from the Google Earth satellite image. But the one on the left has virtually vanished from the landscape.
The OS co-ordinates are 005752. Any ideas on what they might once have been would be much appreciated.
Mystery no.1
As I was creating the 'fly-thru' of the Foxlow Edge walk, I noticed a couple of circles high on the ridge captured by Google's satellite camera.
To my untrained eye, they look like the remains of stone age huts. But as anyone who follows this blog will know, most of my guesses soon get shot down in flames.
So I decided to get in touch with the experts to see if they had any records showing what they might be. Anna Badcock is Cultural Heritage Team Manager at the Peak District National Park Authority.
Anna said they have no records of the circles. But since one of them is bordered by the remains of a stone wall, it's likely the the fainter circle would also have been surrounded by a wall. And that they're most probably enclosures of some kind.
Anna also thought they could have been part of the designed landscape around Erwood Hall. But said it would need a field visit to confirm things.
My initial reaction was that they look too neatly circular to be simple field enclosures. And it seems odd to have two so close to each other, one of which has virtually vanished from the landscape. But I'll follow Anna's suggestion and take a closer look.
Buxton Museum has been displaying a fascinating exhibition called 'Lullaby of the Larks' which commemorates a massacre at a nearby Iron Age hill fort called Fin Cop, some 15 miles from the Goyt Valley.
Our stone-age ancestors always seem to have settled on high ground, in locations with good all-round visibility to quickly spot any potential threats. And Foxlow Edge certainly fits the bill. So until someone proves otherwise, I'll continue to hope this is what the circles must be.
Page update: Anna pointed out that, although she hasn't measured the circles, she feels they would be too large for huts. And looking at the nearby trees to get an idea of scale, I'm sure she's right. So another of my theories bites the dust! But I still think they look an unlikely spot for field enclosures.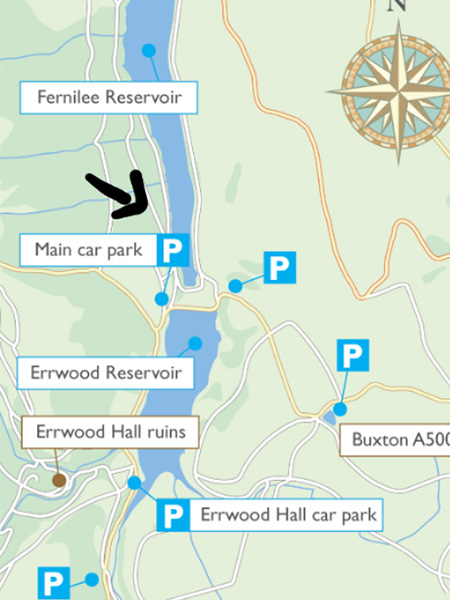 Above: Jessica sent this screengrab of one of the website maps to indicate where she and her boyfriend found the memorial.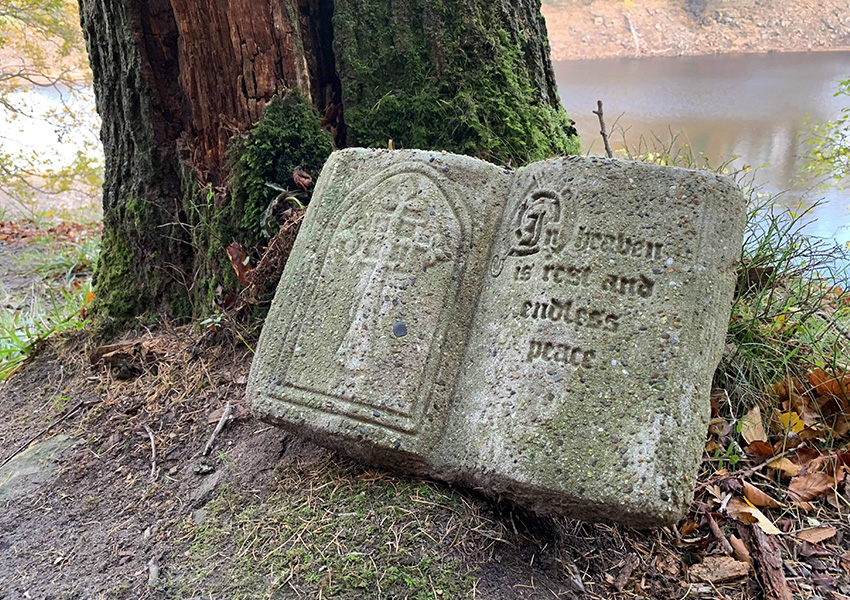 Mystery no.2
Jessica got in touch to ask about a stone book she and her boyfriend found near the top end of Fernilee Reservoir, placed at the base of a tree:
…at the start of the path was a stone book, with the words 'In Heaven is rest and endless peace' carved into it. It looked fairly old, as the words were slightly worn. I had a look on your website and I couldn't find any mention of it. Do you know the story behind this?
I must have gone past this spot many times, but have never noticed it. From the ground around it, it looks as though it may have been placed here fairly recently. I'm wondering whether it may have been part of a graveyard memorial. But who knows?
Jessica sent a map showing its approximate position. Any ideas would be much appreciated. Simply leave a comment below, or send me message.