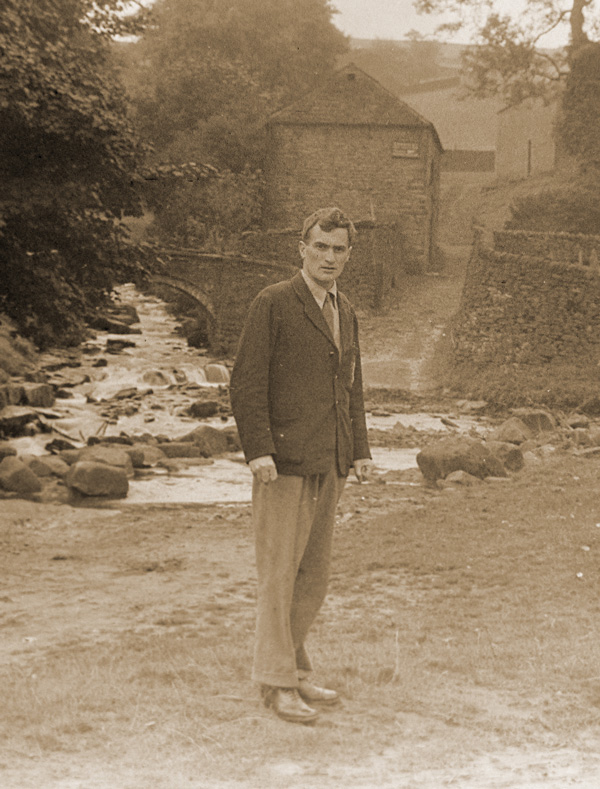 Above: Mark's father pictured in the early 1930s – in front of the packhorse bridge at Goyt's Bridge.
One of the joys of creating this website is when people send me messages like the following…
Mark writes: "I was going through some old photos dating to 1930/31 and there are several taken at Goyt's Bridge. I have never been there myself but my father was involved with it at the time.

They are quite interesting but rather poor quality. Also I have mostly the negatives, so before I get them printed thought I'd check that you would like to see them."
The photos of Mark's father date back to 1930-31, but the collection includes others dating back to the early 1920s.
Theys include some of the small Gypsy caravan at Goyt's Bridge. I've noticed the caravan in some other old photos – as well as a brief glimpse in the 1932 cine film of Goyt's Bridge.
Mark thinks it belonged to the Wall family who once lived in Buxton. And says it was kept beside the Goyt stream during the 1920s-'30s. If anyone has any information on the caravan, please get in touch, or leave a comment below.
As Mark says, many of the the photos have suffered over the years. But I still find them fascinating. They should slide automatically, but if you prefer to view them at your own speed, simply click on any image and use the arrow keys to move forwards and backwards.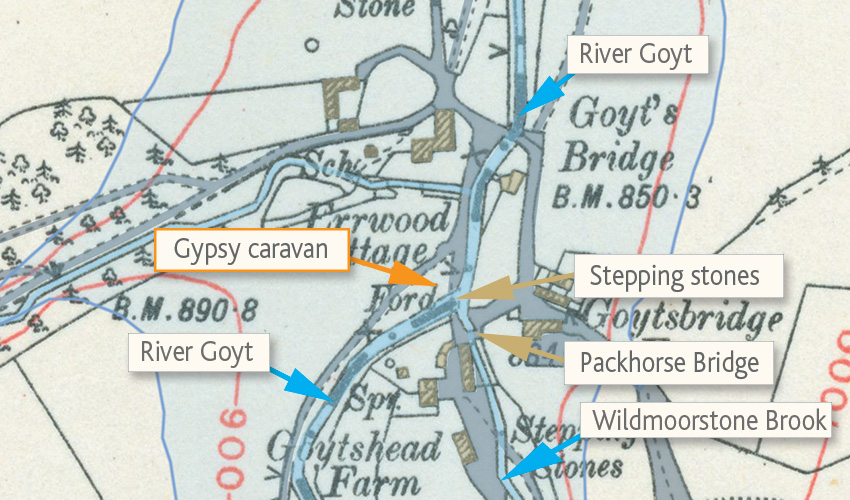 Above: This old OS map shows the position of the caravan in Goyt's Bridge (click to enlarge). It was beside the stepping stones over the Goyt, close to the old packhorse bridge. The blue shading shows Errwood Reservoir today.