Above: First issued in 1607, this image is copied from the 1637 edition of Camden's Britannia.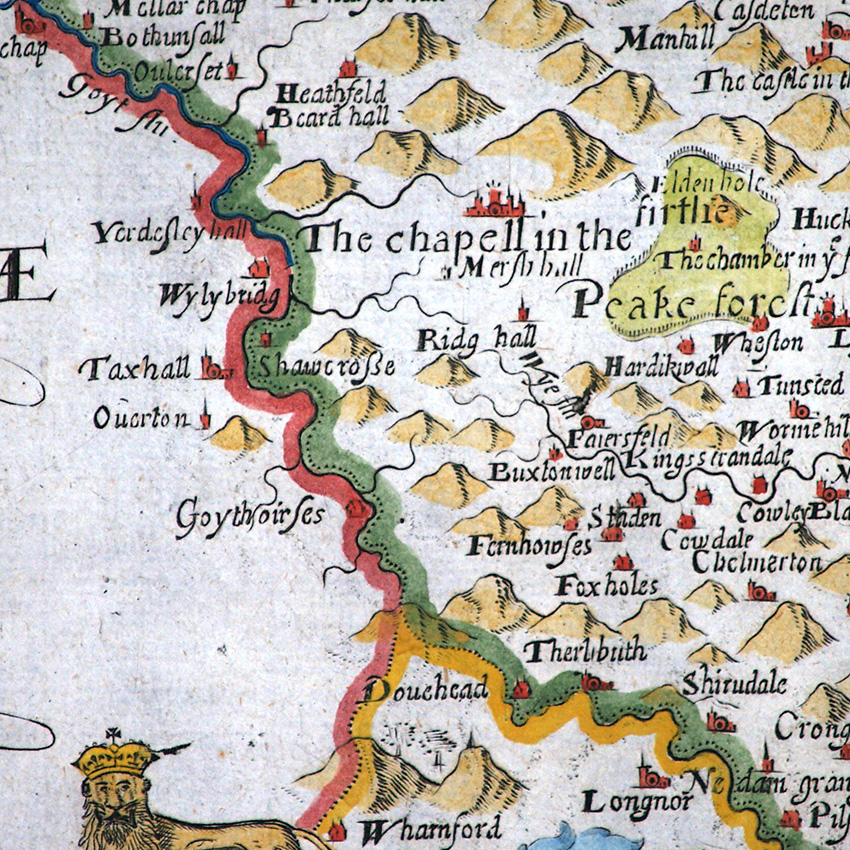 Above: Click the map to enlarge.
Map courtesy of Copperplate Antique Maps. (Click to view a comprehensive stock of original antique county maps.)
William Hole (1607)
By Kevin Welch of Copperplate Antique Maps.
This map of Derbyshire is by William Hole dates from 1607. William Hole and William Kip were early 17th century engravers employed to create a new set of county maps to accompany a revised edition of William Camden's major topographical and historical work titled simply 'Britannia'.
The original book was compiled in 1586 and written in Latin, but it didn't include any maps. A few general maps were added in subsequent editions, but that of 1607 was the first to include county maps.
Kip and Hole followed Saxton for their cartography, adding their own embellishment by way of decorative cartouches and other imagery. These maps also appeared in the editions of 1610 (with the text now in English) and 1637.
There are no significant differences between the maps in these three editions. You will see on the map that Hole has misread Saxton's spelling of Goythowses, and come up with Goythoirses instead.
Thankfully, John Speed put this right on his own map of 1612, otherwise we might have seen Goythoirses on all Derbyshire maps for the next century or more.