Above: This is the very first representation of Goyt's Bridge – then known as Goythowses (Goyt Houses). Click the map below for a closer view.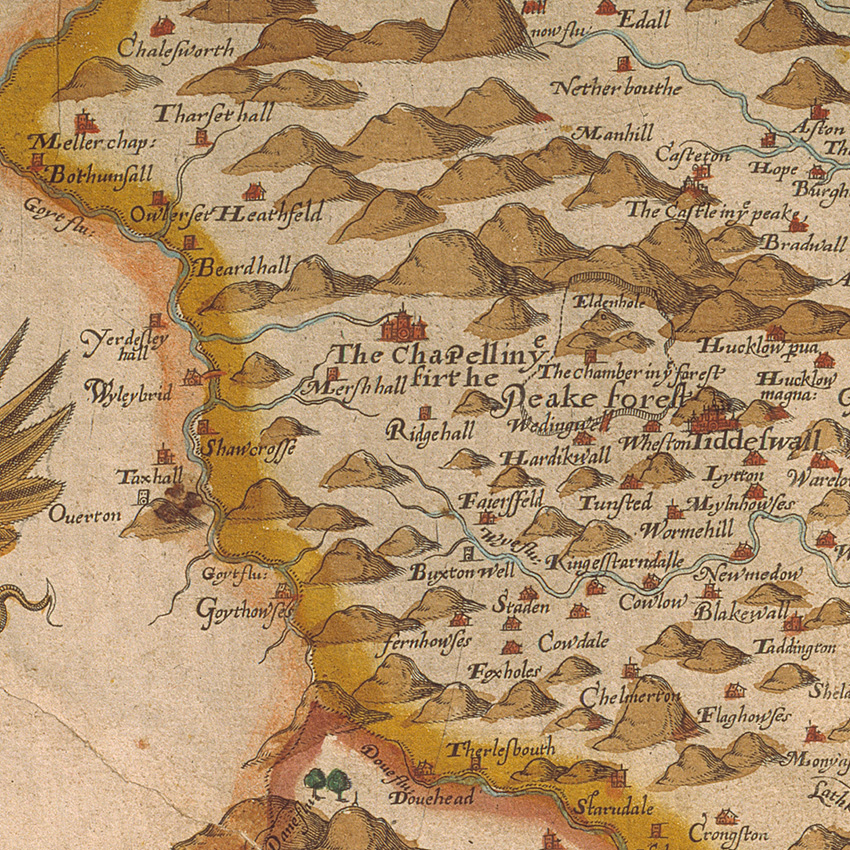 Above: Map of Derbyshire 1577 by Christopher Saxton (c1543 – c1610). © Devonshire Collection, Chatsworth. Reproduced by permission of Chatsworth Settlement Trustees.
Christopher Saxton (1579)
By Kevin Welch of Copperplate Antique Maps.
In the 1570's, with the encouragement and financial backing of Lord Burghley and Sir Thomas Seckford, Christopher Saxton set about the creation of the first atlas of the English and Welsh Counties.
The field survey work took around five years to complete, the draughts being engraved onto copper plates for printing as the survey progressed. The untitled atlas was then first published in 1579.
Some adjacent counties were grouped together on single map sheets, but Cheshire and Derbyshire were each given their own single sheet. Saxton's atlas established the county as the base unit for future mapmakers, many of whom plagiarised his survey work to create their own county maps and atlases. Most counties were not re-surveyed until the 18th century.
Saxton's maps are the first time many settlements ever appeared on any map, and this is almost certainly true of several place names in and around the Goyt valley, including the hamlet of Goythowses, which appears on the Derbyshire map (though not on that of Cheshire where the settlement symbol is actually located).
Saxton's maps are today rare, and much sought by collectors. A good example of the Derbyshire map might today cost in the region of £2,000. The map shown above is from the Devonshire Collection at Chatsworth House.