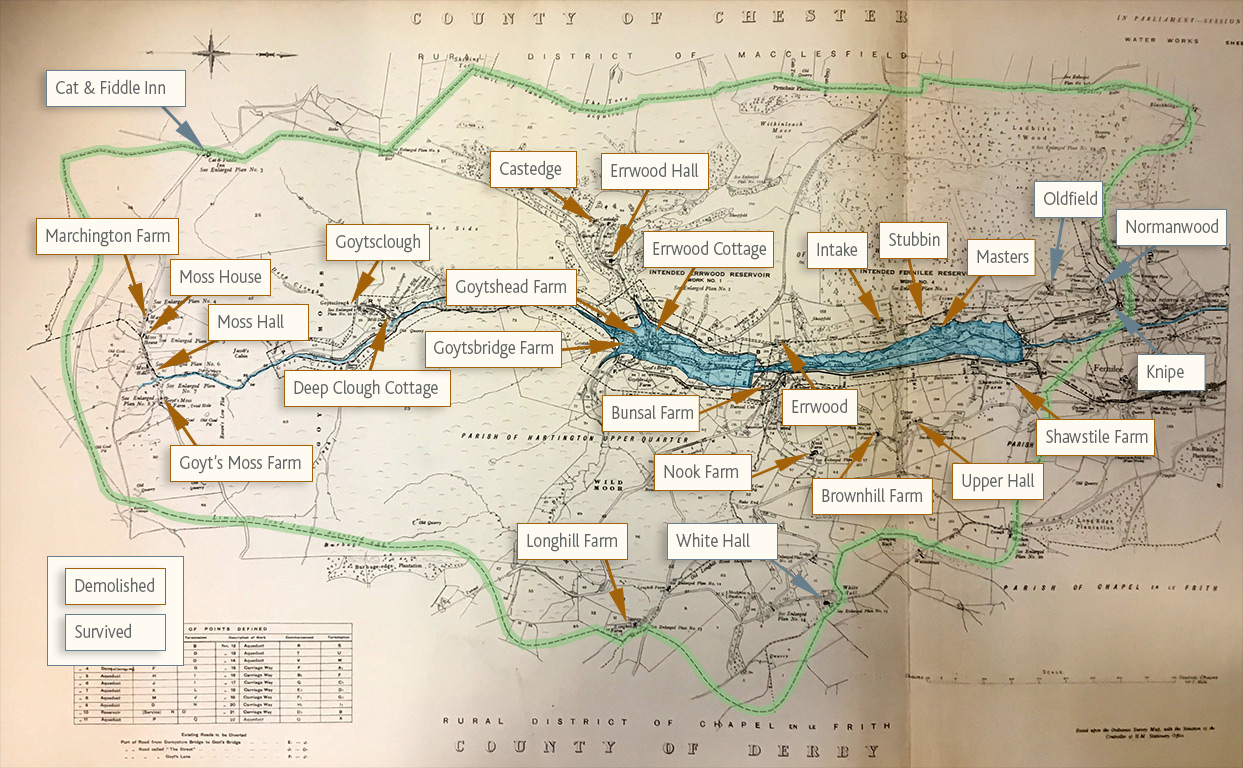 Above: I've overlaid colours on this 1930 map of the Goyt Valley. The green border shows the land purchased by Stockport Corporation, with the enclosed buildings and farm houses captioned, and the proposed twin reservoirs marked in blue.
Planning the reservoirs
This wonderfully detailed, fold-out map of the Goyt Valley was produced by Stockport Corporation in 1930. It's one of a number of technical drawings and plans, bound in a large volume and held in Stockport Heritage Library*. It shows the entire Errwood Estate which was compulsory purchased shortly after the death of the last of the Grimshawe family of Errwood Hall, Mary Gosselin-Grimshawe.
Stockport Corporation had long identified the area as an ideal spot to construct the twin reservoirs which now dominate the Goyt Valley; Fernilee to the north (completed in 1937), and Errwood to the south (completed in 1968).
Errwood Hall survived for a few years as a Youth Hostel before being demolished in the mid 1930s. All the buildings within Goyt's Bridge seem to have been destroyed in the early 1930s, apart from the Packhorse Bridge which was moved further upstream in the mid 1960s. The last of the tenant farmers were forced to leave their homes in March 1936 (click for details), and their homes and farm buildings were demolished soon after.
*I'm trying to get permission from Stockport Library to reproduce these drawings here. If they suddenly disappear, it's because I haven't been successful.