Joe Hewitt interviews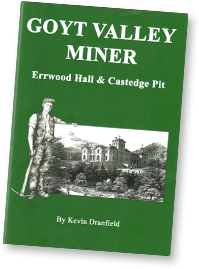 Some time ago I went to a fascinating talk about coal mining in the Goyt Valley given by Kevin Dranfield. His book, 'Goyt Valley Miner' includes a wealth of information, and describes the important role played by the Hewitt family. The back page sums up the content;
The book tells the story of how a local coal-mining family took over the Castedge Pit after WW1 to supply coal to Errwood Hall and the village of Goyt's Bridge.

A lost tradition of small-pit working in the Cheshire Coalfield is described in detail with pictures, maps and drawings.

The book also gives an insight into the everyday life in the valley, in an era when the pace of time was so much slower than today.
The last page includes this acknowledgement…
And finally the late Joe Hewitt whose memory lingers on from his audio tapes which gave the inspiration for this book.
Kevin was kind enough to allow me to copy these recordings from three CDs. They're fairly long so I've only included the first CD, and split it into two parts. It's part of an interview recorded at BBC Radio Manchester in 1977, with Joe and his friend Les Meadowcroft.
Joe's father, Jack Hewitt, managed Castedge Coal Mine. His family lived for some time at Shooter's Clough Cottage.

For a copy of 'Goyt Valley Miner', send a cheque for £6.25 (includes £1.50p+p) to Kevin Dranfield, 27 Kayswood Road, Marple, Stockport SK6 6EW. Or visit High Peak Bookstore (https://www.highpeakbookstore.co.uk).
Above: Joe's father, Jack Hewitt, pictured on the left in 1922 with his daughter Phylis on his lap and his wife, Mary, alongside.
The entrance to the mine is behind, and it was probably taken when he was showing visitors down the workings. Something Joe says his father often did.