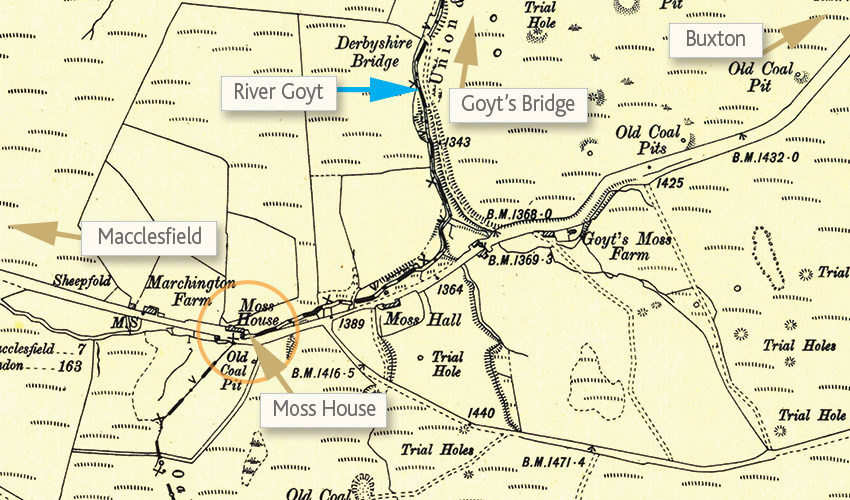 Above: This 1913 map (click to enlarge) shows the old road between Macclesfield and Buxton, running through Derbyshire Bridge. It also shows many coal pits and trial holes.
Above: This photo shows the Macclesfield Old Road as it snakes from The Cat & Fiddle pub (about 1/4 mile to the left), through Goyt's Moss (now known as Derbyshire Bridge), and over the horizon towards Buxton. It's just possible to make out the narrow road from Derbyshire Bridge to Goyt's Bridge, running horizontally to the left. I've circled Moss House. To the left is Marchington Farm. Moss Hall is to the right, and finally Goyt's Moss Farm.
Moss House
The inset photo shows John Swindells relaxing outside his home, Moss House, possibly around 1915.  It was one of four farm houses on this short stretch of bleak and windswept road.
There's very little left of any of these houses, beyond a few dressed stones lying scattered on the ground, fast vanishing beneath the moorland vegetation. Although there is now a Peak District Rangers' hut close to where Goyt's Moss Farm once stood, with a small car park alongside.
A look at the old OS map shows there was once a number of coal pits around here. And this may well be the reason why four relatively substantial, stone-built houses once stood here, providing shelter and accommodation for the miners and their families.
My thanks to Mike for providing the census records below.

Page updates:
Esme has just sent this photo of Moss House (click to enlarge):
"My Mother was born in this house in 1901. Later on, four more siblings were born here. Then some years later the family moved to Hill Top Farm in Flash. My Great Grandmother, Mary Palfreyman, a widower was in residence at Goyts Moss Farm in 1901 which she farmed and was head of the house.

On the day the 1901 cenus was taken, my Grandmother, Sarah Annie Palfreyman, was visiting her mother, Mary. Also in residence was Mary's Grandaughter and a farm hand.

Sarah Annie was then pregnant with my Mother. She and her husband then moved into Moss House where my Mother was born. I hope this is of some interest to you who have connections with the lovely Goyts Moss and Valley.
Further update: 19th May 2022: I've come across four more photos of John Swindell and his wife Eliza Ann, together with their granddaughter, Annie (click to enlarge). The notes also say that Annie "…later worked at Errwood Hall until she married John Southern. Years later they lived at Vaughan Road, Whaley Bridge".
Surname
First name
Born
Relationship
Occupation
Birth place
1841 Census (Moss House)
Marchington
Elizabeth
c1771
Farmer
Cheshire
Marchington
Eliza
c1806
Marchington
Joeseph
c1828
Marchington
Martha
c1829
Marchington
Elizabeth
c1831
Marchington
Charles
c1833
Marchington
Samuel
c1834
Marchington
Sarah
c1836
Marchington
Thomas
c1838
Marchington
William
c1839
Hulme
James
c1801
Agric. labourer
1871 Census (Goyts Moss)
Austin
William
Head
Labourer
Caulden
Austin
Mary
Wife
Mayfield
1871 Census (Old Moss House)
Wain
John
Head
Farmer
Taxal
Wain
Priscilla
Wife
Buxton
1911 Census (Old Moss House)
Swindells
John
Head
Farmer
Rainow
Swindells
Eliza Ann
Wife
New Mills