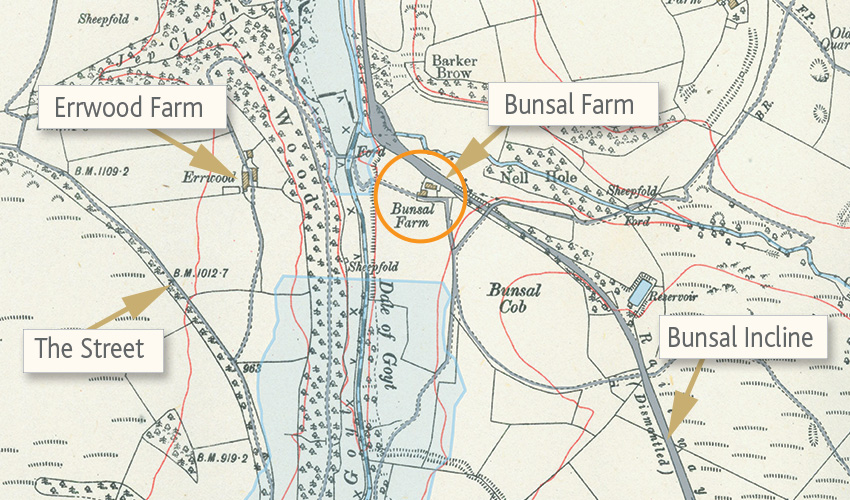 Above: This 1890 OS map shows both Bunsal and Errwood Farms (click to enlarge). The blue shading shows the position of the twin reservoirs today.
The map also shows the track down to the ford across the Goyt. A suspension bridge was built across this spot during the construction of Fernilee Reservoir in the 1930s (click for more details).
Above: A view across the valley with Bunsal Farm bottom right and Errwood Farm in the distance. The Goyt runs along the valley from left to right, and just beyond is the old road from Goyt's Bridge to Whaley Bridge via the gunpowder mill.
Bunsal Farm
Bunsal Farm was situated on the left, at the base of the Bunsall Incline – the straight and steep slope which today forms the main route into the Goyt valley from the Buxton to Whaley Bridge 'Long Hill' road. All that remains today is a levelled area, surrounded by trees and barbed wire, near the southern end of Fernilee Reservoir.
The census records from 1871 show it was occupied by John Hibbert, who farmed some 140 acres, and his family. The Hibberts had a long association with the Goyt valley, and were amongst the last families to live here before Stockport Corporation compulsory purchased the land in 1930 to construct the twin reservoirs.
John Hibbert died in 1901 aged 70, and his wife Ellen in 1910 aged 76. After their deaths, their eldest son, John is recorded as head of the family, living with his sister Ann and younger brother James.
Another son, Thomas Bennet Hibbert, moved to Goyt's Bridge sometime between 1901 and 1911, with his wife and daughter. Thomas's name appears on a sign in Goyt's Bridge which I've spent some time trying to make sense of. Click here to view.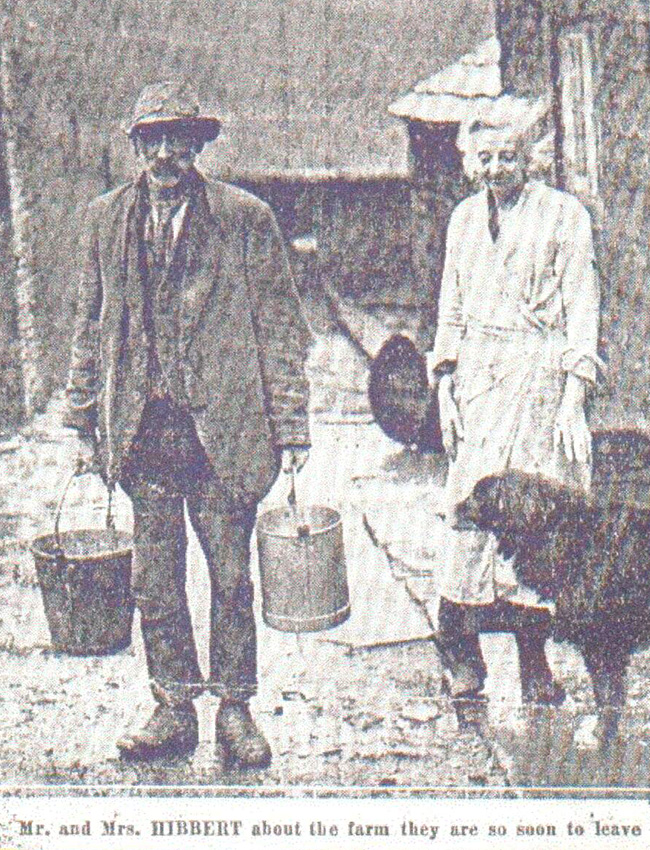 Page update
Click here to read a poignant newspaper report describing the final days of Joe and Prudence Hibbert at Bunsal Farm.
They were said to be the last farmers to leave the valley, in 1936.
Surname
First name
Born (Died)
Relationship
Occupation
Birth place
1871 Census
Hibbert
John
1831
Head
Farmer
Fernilee
Hibbert
Ellen
1834
Wife
Fernilee
Hibbert
Ann
1864
Daughter
Hartington Upper Quarter
Hibbert
John
1867
Son
Hartington Upper Quarter
Hibbert
Joe
1869
Son
Hartington Upper Quarter
1881 Census
Hibbert
John
1831
Head
Farmer 140 acres
Fernilee
Hibbert
Ellen
1834
Wife
Fernilee
Hibbert
John
1867
Son
Scholar
Hartington Upper Quarter
Hibbert
Joe
1867
Son
Scholar
Hartington Upper Quarter
Hibbert
Ellen
1868
Daughter
Scholar
Hartington Upper Quarter
Hibbert
Thomas B
1875
Son
Scholar
Hartington Upper Quarter
Hibbert
James
1879
Hartington Upper Quarter
1891 Census
Hibbert
John
1831
Head
Farmer
Hibbert
Ellen
1834
Wife
Hibbert
Annie
1865
Daughter
Farm assistant
Hibbert
Thomas
1875
Son
Farm assistant
Hibbert
James
1879
Son
Farm assistant
1901 Census
Hibbert
John
1831
Head
Hibbert
Ellen
1834
Wife
Hibbert
Annie
1865
Daughter
Hibbert
(Thomas) Bennet
1874
Son
Hibbert
James
1879
Son
Hibbert
Thomas
1899
Grandson
1911 Census
Hibbert
John
c1867
Head
Farmer
Bunsall Farm
Hibbert
Ann
c1865
Sister
Housekeeper
Bunsall Farm
Hibbert
James
c1878
Brother
Agricultural labourer
Bunsall Farm