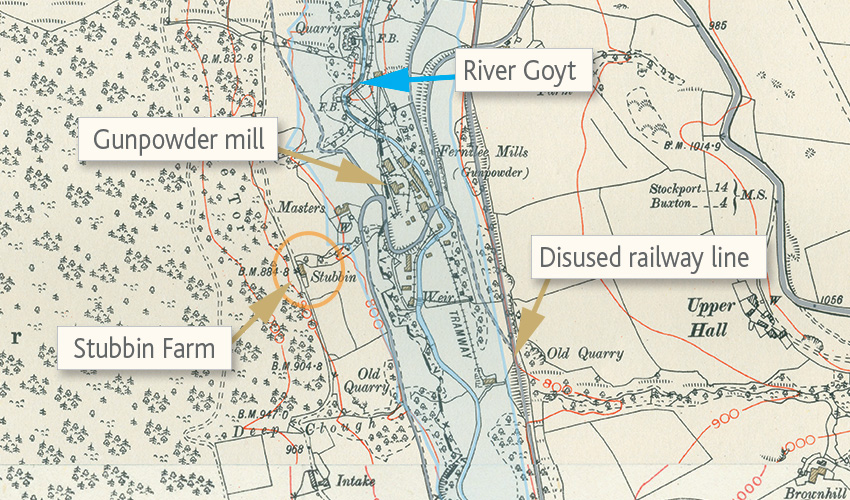 Above: This 1890 map shows how close Stubbin Farm was to the gunpowder mill which lay in the valley below. The blue shaded area shows Fernilee Reservoir today (click to enlarge).
Stubbin Farm
The ruins of Stubbin Farm are well hidden, lying beside a junction of footpaths on the western side of Fernilee Reservoir; where the shoreline path rises up to meet the woodland track.
The only records I've managed to discover (with the help of Gail and Mike) are the census returns shown below which reveal that William and Jane Wilson lived here with their four sons in 1871, and that the eldest, George, had moved out before 1881.
William worked at the nearby gunpowder mill, and also farmed 15 acres of land. Two of his sons – Mathew and Thomas – are both listed as coal miners at one of the many local pits in the valley.

A newspaper dated June 28th 1890 carries a gruesome report of an accident on the Bunsal Incline involving 11-year-old John Wilson. I wonder whether he could have been related to the Wilsons of Stubbin Farm. According to the article, John was killed whilst playing on the line when some trucks became detached; three of them running over his body.

Page update: May 2021. Judith Jackson has been in touch to ask:
"Do you know anything about Stubbins Farm – eg. when it was sold? I have the bill of sale poster but no year is on it. My grandfather was William Wilson son of Matthew Wilson.

I spent many happy holidays visiting places with my Grandad especially the ruins of the farm and walking to the Cat and Fiddle, Taxal, Fernilee , Whaley Bridge, etc."

Page update: December 2021. Alan Wilson has put on his Sherlock Holmes deerstalker to deduce the answer to Judith's question. It seems the year would have been 1932, which makes sense since Stockport Corporation purchased the estate in 1930:
Judith asks about the date of a sale notice for Stubbins Farm. Matthew Wilson was selling up his stock. The date is on the newspaper clipping – Saturday, 15 October. Matthew appears on the Electoral Register at Stubbins up to at least 1927, and the next year with a Saturday, 15 October is 1932.
Surname
First name
Born
Relationship
Occupation
Birth place
1841 Census
Wilson
George
c1791
Farmer
Cheshire
Lomas
Isaac
c1811
Agric. labourer
Cheshire
Gaunt
Sarah
c1826
1851 Census
Wilson
George
c1786
Head
Farm labourer
Taxal
Wilson
Stephen
c1782
Brother
Infirm
Taxal
Wilson
David
c1779
Brother
Farmer pauper
Taxal
1861 Census
Wilson
George
1784
Head
Farmer of 13 acres
Taxal
Wilson
David
1796
Brother
Farm labourer
Taxal
1871 Census
Wilson
William
1815
Head
Gunpowder maker
Cheshire
Wilson
Jane
1822
Wife
Derbyshire
Wilson
George
1854
Son
Labourer
Derbyshire
Wilson
Mathew
1855
Son
Labourer
Derbyshire
Wilson
William
1858
Son
Scholar
Derbyshire
Wilson
Thomas
1860
Son
Scholar
Derbyshire
1881 Census
Wilson
William
1815
Head
Labourer at Gunpowder Works
(15 acres)
Derbyshire
Wilson
Jane
1822
Wife
Derbyshire
Wilson
Mathew
1854
Son
Coal miner
Derbyshire
Wilson
William
1855
Son
Farm tenant
Derbyshire
Wilson
Thomas
1860
Son
Coal miner
Derbyshire
1891 Census
Wilson
Jane
1822
Widow
Farmer
Fernilee
Wilson
William
c1860
Son
Railway servant
Fernilee
1901 Census
Wilson
Matthew
c1857
Head
Farmer & labourer at powder mills
Fernilee
Wilson
Elizabeth A
c1861
Wife
Rainow
Wilson
Fred
c1885
Son
Cartridge wrapper at powder mills
Fernilee
Wilson
William
c1886
Son
Cartridge wrapper at powder mills
Fernilee
Wilson
Jane
c1889
Daughter
Fernilee
Wilson
Charles
c1891
Son
Fernilee
Lowe
Charles
c1886
Father in law
Labourer at powder mills
Rainow
Lowe
Martha
c1883
Sister in law
Rainow
Lowe
William C
c1892
Rainow
1911 Census
Wilson
Matthew
c1855
Head
Farmer & labourer at powder mills
Fernilee
Wilson
Fred
c1885
Son
Cartridge wrapper at powder mills
Fernilee
Wilson
William
c1886
Son
Cartridge wrapper at powder mills
Fernilee
Wilson
Jane
c1889
Daughter
Housekeeper domestic
Fernilee
Wilson
Charles
c1891
Son
Carter
Fernilee
Lowe
William Charles
c1892
Nephew
Powder mill labourer
Rainow