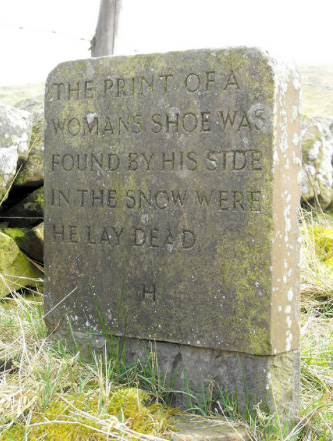 Above: The reverse of the stone (click to enlarge). Just who was the lady who left a frozen footprint in the snow beside the dead body? (Photo Dr. Tony Shaw.)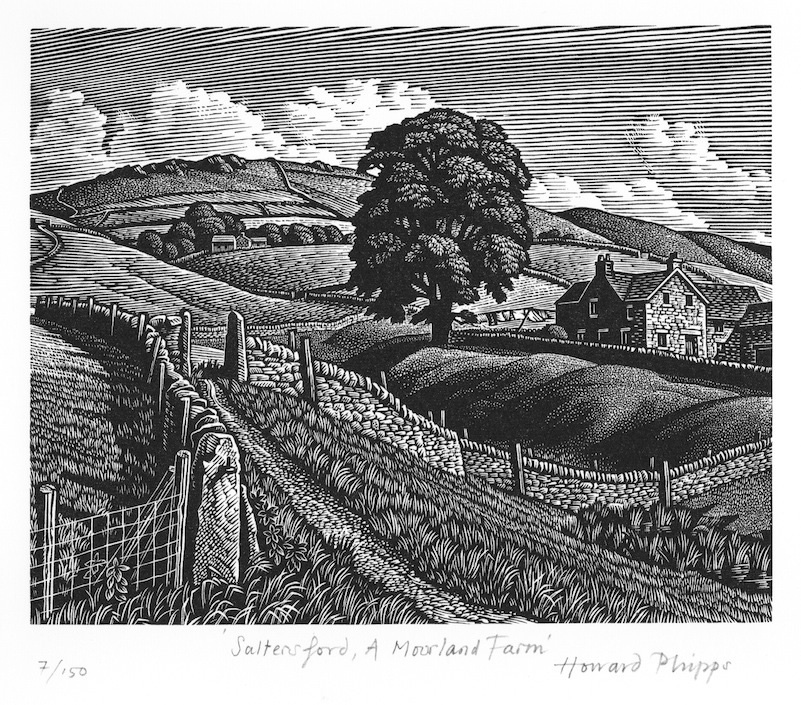 Above: A wonderful woodcut illustration of Saltersford Hall Farm by Howard Phipps. (Click to enlarge.)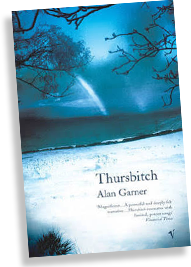 Above: Alan Garner's novel, Thursbitch, tells the story of John Turner's mysterious fate. Click here to view on Worde
ry.
Finding the stone
It's easy to miss the stone. I went along the road a few times before spotting it.
Click the map to see it's exact location. It's just past a metal gate on the right, above a fairly high verge.
The road is too narrow to park, so drivers need to find space around the spot marked 'Nab End' on the map.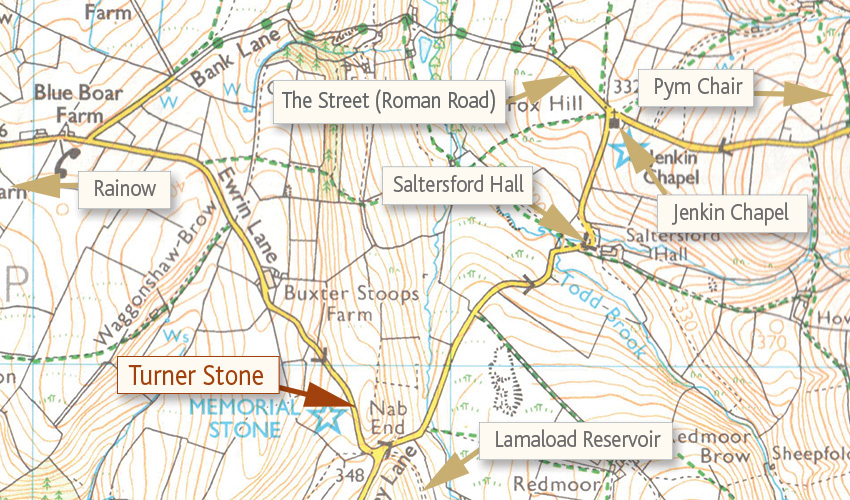 A mile or two southwest of
Jenkin Chapel
, beside the ancient road known as Ewrin Lane, stands an intriguing memorial stone. The inscription on one side reads "HERE JOHN TURNER WAS CAST AWAY IN A HEAVY SNOW STORM IN THE NIGHT IN OR ABOUT THE YEAR 1755". And on the other side "THE PRINT OF A WOMANS SHOE WAS FOUND BY HIS SIDE WERE HE LAY DEAD".
What can it mean? Who was John Turner? Who cast him away in a heavy snow storm? And who was the mysterious lady who left a single footprint beside the frozen body? It sounds like an intriguing case for Sherlock Holmes! But even he would have struggled to piece together the clues from an 18th century stone standing beside a narrow country road.
The stone even seems to have inspired a novel; 'Thursbitch' by Alan Garner. (It's received some good reviews and I've ordered a copy.) Click here to read Alan's account of what led him to write the novel. Here's what Alan has to say about John Turner;
John Turner lived at Saltersford Hall, where his father was a tenant farmer. He was born in 1706 and became a packman, or jagger, with a train of four horses.

His main occupation was carrying salt from Chester and Northwich to Derby, from where he would return with malt. His home in Saltersford* was ideally placed on this prehistoric trade route.

On Christmas Eve, 1735, (that is, when John was twenty-nine), he was on his way back from Northwich. It was snowing. But packmen were used to being on the road in all weathers and at all hours. They knew the hills better than anyone. They took no risks.

Jaggers were essential to their communities and yet at the same time mistrusted. Travel in eighteenth century England was not for ordinary folk. Most people didn't move more than four miles from their birthplace in their entire lives.

Jaggers were looked on as boundary-striders, as Grendel is described in Beowulf, wild men, wodwose, as in Sir Gawain and the Green Knight. They belonged more to the hills than to the valleys.

Yet on that Christmas Eve, John Turner did not reach home. The next morning he was found dead, though his team of horses survived, covered by drifts. And by him, on the white, wind-smoothed land, was the single print of a woman's shoe in the snow.
Which all leaves just as many questions as answers! I'll update this page if I discover any more clues about John's frozen death and the mysterious lady who left a single footprint in the snow.
*Saltersford isn't marked on modern maps. Bit it was the same location as Jenkin Chapel.

Above: Here's a short video clip of the stone I found on YouTube.

Page update, Feb 2021: Michael on the Rainbow Old & New Facebook Group wrote: "…the original stone was moved and built into a wall of a house on Pedley Hill. The house is 3 or 4 storeys but very narrow front to back." He also thought it was visible from the outside. I'll update this page if I can get a photo.
Page update, May 2021: There's some fascinating detail on this webpage about both John Turner and Jenkin Chapel.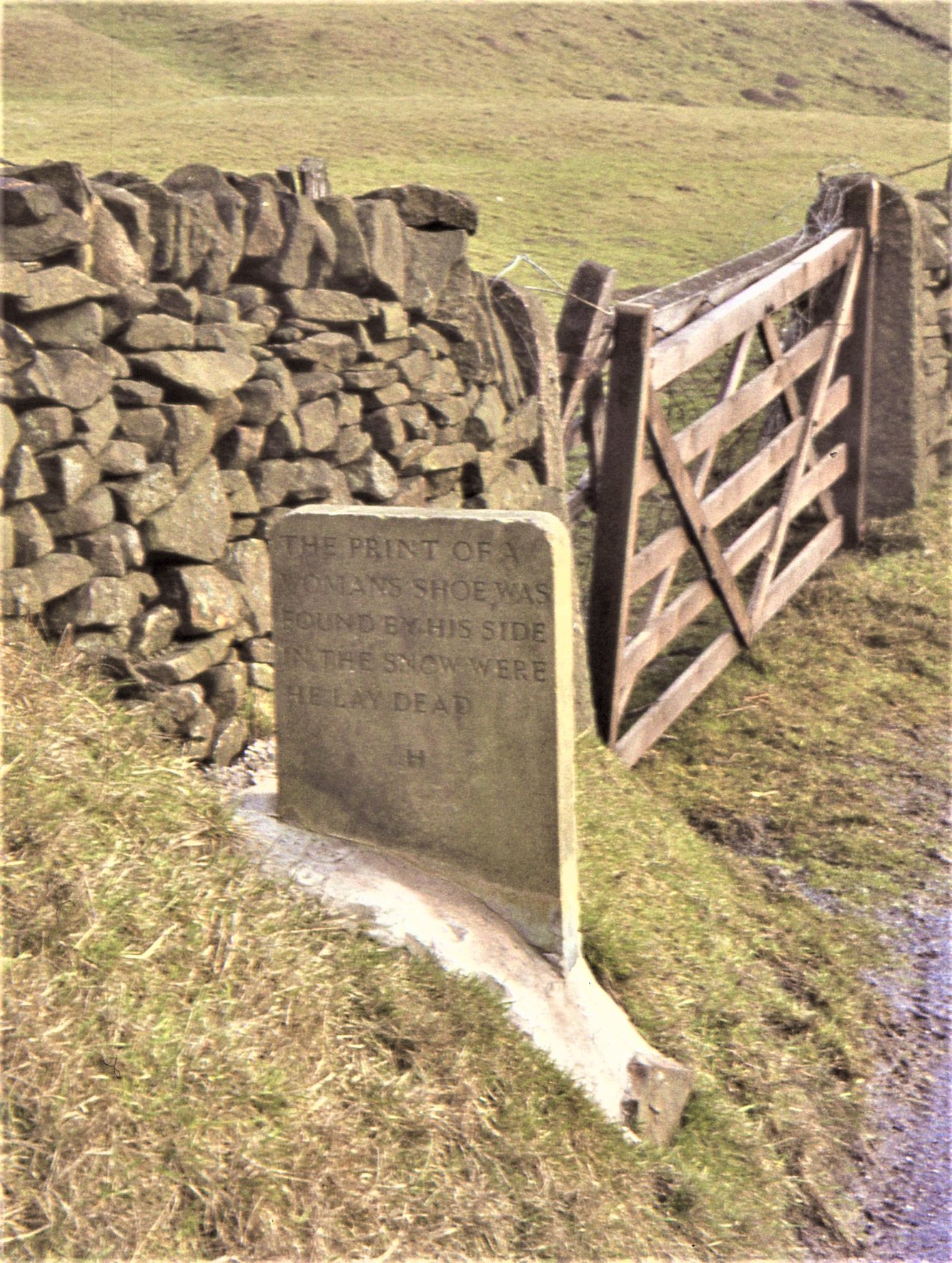 Above: The replacement stone with the incorrect date. It's since been moved higher up the slope to protect it from traffic.
Page update, January 2022: Many thanks to David on the Rainow Facebook Group for allowing me to reproduce his post confirming that the John Turner Stone isn't the original, and also that the replacement has been moved twice – firstly further down the lane (see photos), and then further up the slope to better protect it from the traffic, possibly about 10-15 years ago.
Original stone replaced
I guess that most folk in Rainow who follow this group know of the memorial to John Turner on Ewrin Lane, but I have recently come across the history behind this stone in the anonymously authored The Story of Rainow, published in perhaps the 1970s-80s, so I thought it might be worth putting this together with my photos of the two most recent incarnations of this memorial.
The Story of Rainow states that James Mellor Jnr (1796-1879) of Hough Hole House "cut, inscribed and fixed the original stone in Ewrin Lane below Buxter Stoops recording the death during a snowstorm of John Turner.
The original stone has been replaced by the present one on which the date 1755 is incorrect. John Turner aged 29 ran a pack horse team and was the son of Richard Turner, Saltersford Hall, a trustee of Jenkin Chapel and uncle of James Mellor's mother.
The following account is by Mrs [sic] W A Mellor, Manchester, and printed in the Manchester City News 1922 as told to him by his great uncle James Mellor:
John Turner who ran a pack horse team was making for his home at Saltersford Hall on Christmas Eve. His last stopping place was at Bollington and notwithstanding all entreaties to stay the night, as a terrible snowstorm was raging, he insisted on pushing on remarking that his folks would be waiting and he had never failed to get through. He set his face to the hills and that was the last seen of him alive.

Next morning a search party went out from his home and a little more than half a mile the leading horse was discovered under the snow on the sheltered side of the road. The remainder were strung out behind at various intervals all alive. The print of the woman's shoe Mr James Mellor never made any attempt to explain.'

The bells of the pack horses eventually came into the possession of James Mellor with the exception of the bell of the leading horse. This bell went to Harrop House where it hung in a tree for a number of years and used to summon the farm workers for their meals etc.

Zephyrine posted this photo on the Rainow FB page (click to enlarge). He thinks one of the four slabs is the original John Turner Stone. And that it was inset into a garden wall at the Old Vicarage in Rainow, at the bottom of Tower Hill. I'd love to get a photo but it's not proving that easy! I'll update this page if I discover more.